Authority Members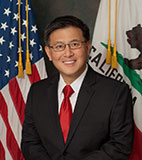 John Chiang
State Treasurer

Residence: Torrance, California.
Background: Mr. Chiang graduated with honors from the University of South Florida with a degree in Finance, and received his law degree from the Georgetown University Law Center. As State Treasurer, he oversees a bank that processes trillions of dollars in transactions every year. He sells Californiaís bonds, invests the Stateís money and manages its cash. Prior to being elected Treasurer, he served from 2007 through 2014 as State Controller. In that office, he took steps during the Great Recession to preserve cash to meet obligations to education and bond holders, worked to ensure the fiscal solvency of the Stateís pension plans, and ensured that $3.1 billion in unclaimed property was returned to the rightful owners. Prior to serving as Controller, he was elected to the Board of Equalization in 1998, where he led with innovative taxpayer-friendly services such as the State's free income tax return preparation service, ReadyReturn.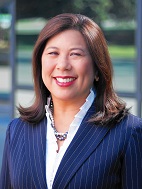 Betty T. Yee
State Controller

Residence: Alameda, California
Background: Betty T. Yee was elected Controller in November 2014, following two terms of service on the Board of Equalization (BOE). As Controller, she continues to serve the BOE as its fifth voting member. As the Stateís chief financial officer, Yee also chairs the Franchise Tax Board and serves as a member of the California Public Employeesí Retirement System (CalPERS) and the California State Teachersí Retirement System (CalSTRS) boards. These two boards have a combined portfolio of nearly $500 billion. She has more than 30 years of experience in public service, specializing in state and local finance and tax policy. Yee previously served as Chief Deputy Director for Budget with the California Department of Finance, where she led the development of the Governorís Budget, negotiations with the Legislature and key budget stakeholders, and fiscal analyses of legislation on behalf of the Administration. Prior to this, she served in senior staff positions for several fiscal and policy committees in both houses of the California State Legislature. Yee currently serves on the board of directors for the Cal Alumni Association at the University of California, Berkeley; California Women Lead; and the Equality California Institute. She was a co-founder of the Asian Pacific Youth Leadership Project, which exposes California high school youth to the public service, public policy, and political arenas. A native of San Francisco, Yee received her bachelorís degree in sociology from the University of California, Berkeley, and her masterís degree in Public Administration from Golden Gate University in San Francisco.

Michael Cohen
Director of Finance

Residence: Sacramento, California.
Background: Michael Cohen was appointed as Director of the California Department of Finance by Governor Jerry Brown in September 2013. He serves as the Governorís chief fiscal policy advisor. Prior to becoming Director, he served as Chief Deputy Director of the Department of Finance from 2011 to 2013. In this capacity, Mr. Cohen was the departmentís lead contact with the state Legislature on the state budget. From 1997 to 2010, Mr. Cohen worked at the Legislative Analystís Office (LAO). While there, he served as a local government finance analyst, Director of State Administration, and Deputy Legislative Analyst. Mr. Cohen earned a Masterís Degree in Public Affairs from the Lyndon B. Johnson School at the University of Texas and a Bachelorís Degree in Urban Studies from Stanford University. He lives in Sacramento with his wife Amy Supinger and his two dogs, Lulu and Dexter.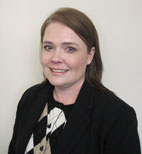 Stacy Lewis Daher
Governor Appointee

Members continue to serve until reappointed or a successor has been appointed and qualified.
Residence: San Francisco, CA
Background: Stacy Lewis Daher is the Associate Vice President of Finance and Treasury at the University of San Francisco, where she has worked since 2002. While working at the University she also served as an Adjunct Professor of Accountancy in the University's School of Management from 2004 to 2006. Prior to her employment at the University of San Francisco, Ms. Daher was a Senior Associate of Audit and Business Advisory Services at the St. Louis office of PricewaterhouseCoopers from 1998 to 2001. While working at PricewaterhouseCoopers, she worked on client engagements in both the higher education and technology industries. She is a Certified Public Accountant, and is the author of several books on various accounting topics, with specialization in accounting for not-for-profit organizations and accounting for business combinations for both for-profit and not-for-profit organizations. Ms. Daher earned a Masters of Accounting from Saint Louis University, and holds a Bachelor in Music from the University of Missouri-Columbia.
William (Bill) G. McGinnis
Governor Appointee

Members continue to serve until reappointed or a successor has been appointed and qualified.
Residence: Chico, California.
Background: Since 1992, Bill has been a Trustee for the Butte-Glenn Community College District and is currently the Board President. In addition, Bill serves on the Board of Directors for the Campaign for College Opportunity and on the Appeals Committee for the Western Association of Schools and Colleges. Between 1997 and 2006 Bill also served on the California Community Colleges Trustees Board of Directors including one year as President as well as President of the Community College League of California. His public service career includes 18 years as an administrator for the California State University, Chico and 17 years as an administrator in local governments primarily as a City Manager in California, Oregon and Florida. While with the California State University (CSU), Bill also served two years as the system-wide coordinator for Facilities Management and taught Political Science courses for four years at CSU, Chico. Billís educational background includes a Bachelorís of Science degree in Business Administration from Midwestern College, a Masterís of Arts degree in Public Administration from the University of West Florida as well as Executive Leadership certificates from both Stanford and Notre Dame Universities. Bill is also a veteran of the U.S. Air Force.