Authority Members
Bill Lockyer
State Treasurer and Chair

Residence: Hayward, California.
Background: Mr. Lockyer completed his undergraduate study at the University of California, Berkeley, and earned a law degree from McGeorge School of Law in Sacramento while serving in the State Senate. He also holds a teaching credential from California State University, Hayward. As State Treasurer, Mr. Lockyer draws on leadership, management and policymaking skills developed over a public service career spanning more than three decades. Mr. Lockyer served for 25 years in the California Legislature, culminating his Capitol career with a stint as Senate President pro Tempore. He served eight years, from 1999-2006, as California Attorney General and left a lasting legacy. Among his landmark achievements as Attorney General, Mr. Lockyer revolutionized crime fighting in California by creating and maintaining the nation's most sophisticated DNA forensic laboratory, established the Megan's Law website and recovered billions of dollars for defrauded energy ratepayers, consumers and taxpayers.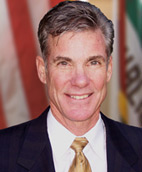 Tom Torlakson
Superintendent of Public Instruction

Residence: PIttsburg, California.
Background: Tom Torlakson was elected to a four-year term as California's 27th State Superintendent of Public Instruction on November 2, 2010. As chief of California's public school system and leader of the California Department of Education, Superintendent Torlakson applies his experience as a science teacher, high school coach, and state policymaker to fight for students and to improve the State's public education system. During his tenure in the California State Legislature, Torlakson acted to protect education funding, improve student nutrition and physical education, and ensure school safety. He also championed legislation to increase funding for textbooks, computers, and other instructional materials and efforts to close the digital divide, eliminate the achievement gap, and reduce the dropout rate. Born in San Francisco, Torlakson served as a fireman in the United States Merchant Marine, earning the Vietnam Service Medal. He earned a B.A. in History, a Life Secondary Teaching Credential, and an M.A. in Education from the University of California, Berkeley. Tom lives in Pittsburg with his wife, Mae Cendaña Torlakson, a member of the Ambrose Recreation and Park District Board of Directors.
Ana J. Matosantos
Director of Finance

Ms. Matosantos was appointed State Director of Finance in December 2009.
Residence: Sacramento.
Background: Ms. Matosantos earned a Bachelor of Arts degree in political science from Stanford University. Ms. Matosantos has served in the Department of Finance as chief deputy director since 2008. Prior to that, she served as deputy legislative secretary for health and human services and veterans affairs in the Office of the Governor from 2007 to 2008. From 2006 to 2007, Ms. Matosantos served as associate secretary for legislative affairs for the Health and Human Services Agency (HHS) and, from 2004 to 2006, she served as assistant secretary for program and fiscal affairs at HHS. Prior to that, she was a consultant to the Senate Committees on Health and Human Services and Budget and Fiscal Review from 1999 to 2004.