Statement from Treasurer John Chiang on British Vote to Leave European Union
State Treasurer John Chiang stressed that uncertainty roiling world markets in the wake of Britain's planned departure from the European Union is not expected to substantially impact investments managed by his office or the state's outstanding debt. Read this news release.
Statement from Treasurer John Chiang on Planned Closure of Diablo Canyon Nuclear Power Plant
State Treasurer John Chiang issued a statement on the announced closure of the Diablo Canyon nuclear power plant. Read this news release.
Intersections: Investing in Tobacco Companies is Harmful to Health, State's Bottom Line
The nation's biggest public pension fund, once again, is embroiled in controversy over whether or not to invest in companies that manufacture and market legal but often deadly cigarettes, cigars and other tobacco products. Read more.
Treasurer's Program Approves $466 Million in Affordable Housing Financing
The California Tax Credit Allocation Committee (CTCAC), chaired by Treasurer John Chiang, approved the issuance of $466 million worth of competitive federal and state tax credits that will help pay for the construction or rehabilitation of 37 affordable housing projects with 2,162 units. At the same time, CTCAC awarded non-competitive tax credits to finance an additional 850 new or rehabilitated housing units statewide. Read this news release.
Pension Fund Leaders Term Corporate Board Diversification 'Unacceptably Slow'
California State Treasurer John Chiang joined a group of state and local officials who contend that corporate boards have been too slow to diversify their ranks and that institutional investors should increase their focus on board diversity as a corporate governance priority. Read this news release.
ScholarShare 529 Plan Reduces Fees for Investors by 20%
ScholarShare, California's 529 college savings plan, announced it will reduce its program management fee for account owners, resulting in net savings of more than $660,000 for existing investors and their beneficiaries. Read this news release.
Legislation to Bring Transparency to Public Pension Fund Fees Heads to Assembly Floor
Assemblyman Ken Cooley's Assembly Bill (AB) 2833 relating to public retirement system's disclosure of fees paid to alternative investment vehicles was unanimously voted out of the Assembly Appropriations Committee on Friday and now heads to the Assembly floor. Read this news release.
Treasurer Chiang Funds Mental Health Programs
Thirty-seven California counties have opened or will open more than 1,200 new beds to treat mentally ill patients as part of an ambitious program administered by State Treasurer John Chiang. Read this news release.
Treasurer Issues Statement on Governor's Revised State Budget
State Treasurer John Chiang issue the following statement on Gov. Jerry Brown's revised state budget. Read this news release.
The California Capital Access Program (CalCAP) Supports 10,000 Loans For Cleaner, Heavy-Duty Diesel Trucks
Residents across California are enjoying better health and cleaner air, thanks to a 7-year-old state initiative that has financed the replacement and retrofitting of more than 10,000 polluting diesel trucks. Read this news release.
California Secure Choice: Helping Californians Save for The Future
There are workers today who are threatened with not only being left behind but who will almost surely suffer the slight of poverty and being forced to rely on government and charitable handouts in their post-employment years. Unless we do something now. Read more.
Treasurer Spotlights California Public Employees' Retirement System (CalPERS) Report Linking Financial Benefits to Diversity and Inclusion in Corporate Offices Globally
State Treasurer John Chiang welcomed data from a California Public Employees' Retirement System's report demonstrating how companies that embrace diversity in their leadership ranks tend to have better relations with stakeholders, attract better talent, and deliver stronger financial bottom lines. Read this news release.
Statement From Treasurer John Chiang on CalPERS Tobacco Investment Policy
State Treasurer John Chiang on Wednesday asked a committee of the CalPERS board to reverse its decision to spend up to two years studying whether the pension fund should lift a 2001 ban on investing in companies that sell cigarettes and tobacco products. Read this news release.
Treasury Buys $200 Million in Green Bonds
California has finalized the purchase of $200 million worth of green bonds issued by the World Bank, state Treasurer John Chiang announced Thursday. Read this news release.
Buy California Bonds
Californians face great challenges as we work together to make our state a great place to live -- for us and future generations. By purchasing California bonds, you can invest in quality schools, safer communities, affordable housing and improved transportation systems. You can help build parks and libraries, and preserve our natural resources.
To learn more about California bonds and how to purchase them, visit Buy California Bonds.
College Access Tax Credit Fund
Help California's college students get the funds to stay enrolled in school and earn a substantial tax credit when you do. A portion of the money you contribute to the College Access Tax Credit Fund may go toward increasing the Cal Grant B Access awards. By participating for the 2015 taxable year, you will receive a state tax credit equal to 55 percent of your donation.
To learn more about the College Access Tax Credit Fund and how to apply, please visit College Access Tax Credit Fund.
Data Bank
Financing Jobs/Education/Health Care/Green Economy/Housing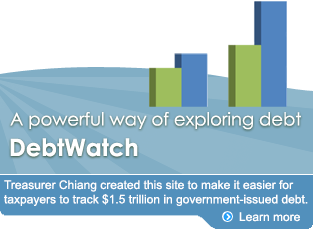 Calendar of Events
Events scheduled for 12/31/2012:
There are currently no events scheduled for this date.
Bond Finance
State & Local Agency Investments
Features
Bay-Delta Report