Current PMIB Members
Bill Lockyer
State Treasurer and Chair

Residence: Hayward, California.
Background: Mr. Lockyer completed his undergraduate study at the University of California, Berkeley, and earned a law degree from McGeorge School of Law in Sacramento while serving in the State Senate. He also holds a teaching credential from California State University, Hayward. As State Treasurer, Mr. Lockyer draws on leadership, management and policymaking skills developed over a public service career spanning more than three decades. Mr. Lockyer served for 25 years in the California Legislature, culminating his Capitol career with a stint as Senate President pro Tempore. He served eight years, from 1999-2006, as California Attorney General and left a lasting legacy. Among his landmark achievements as Attorney General, Mr. Lockyer revolutionized crime fighting in California by creating and maintaining the nation's most sophisticated DNA forensic laboratory, established the Megan's Law website and recovered billions of dollars for defrauded energy ratepayers, consumers and taxpayers.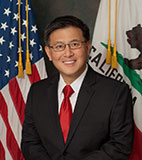 John Chiang
State Controller

Residence: Torrance, California.
Background: Mr. Chiang graduated with honors from the University of South Florida with a degree in Finance, and received his law degree from the Georgetown University Law Center. As State Controller, he presides over 76 boards and commissions, including the Franchise Tax Board, the California Public Employees' Retirement System Board, and the California State Teachers' Retirement System Board. Prior to being elected State Controller, he was elected to the Board of Equalization in 1998, leading with innovative taxpayer-friendly services like the State's free income tax return preparation service, ReadyReturn. Mr. Chiang's record of public service has been recognized with many awards and distinctions including the Award for Excellence by a Government Official from the Los Angeles County Bar Association.
Ana J. Matosantos
Director of Finance

Ms. Matosantos was appointed State Director of Finance in December 2009.
Residence: Sacramento.
Background: Ms. Matosantos earned a Bachelor of Arts degree in political science from Stanford University. Ms. Matosantos has served in the Department of Finance as chief deputy director since 2008. Prior to that, she served as deputy legislative secretary for health and human services and veterans affairs in the Office of the Governor from 2007 to 2008. From 2006 to 2007, Ms. Matosantos served as associate secretary for legislative affairs for the Health and Human Services Agency (HHS) and, from 2004 to 2006, she served as assistant secretary for program and fiscal affairs at HHS. Prior to that, she was a consultant to the Senate Committees on Health and Human Services and Budget and Fiscal Review from 1999 to 2004.