William W. Holder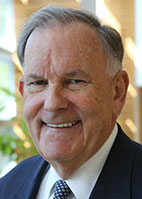 William Holder serves as dean of the University of Southern California (USC) Leventhal School of Accounting, and holds the Alan Casden Deanís Chair of Accountancy.
Prior to his current post, Holder served as a member of the Governmental Accounting Standards Board for 10 years and was the Ernst & Young Professor of Accounting and Director of the Securities and Exchange Commission (SEC) and Financial Reporting Institute in the Marshall School of Business at the University of Southern California. He is an expert on financial reporting and auditing.
Holder has published extensively and received numerous awards during his career, including being twice named as one of the Top 100 People in the accounting profession. He also received the American Institute of Certified Public Accountants Gold Medal for Distinguished Service, the highest honor awarded by that organization.
He has served on governance and other standard-setting bodies, including the Accounting Standards Executive Committee of the American Institute of CPAs (AICPA). During Congressional hearings leading to passage of the Sarbanes/Oxley Act, he provided invited testimony about financial reporting, auditing and corporate governance.
Holder holds his doctorate from the University of Oklahoma and is a certified public accountant.