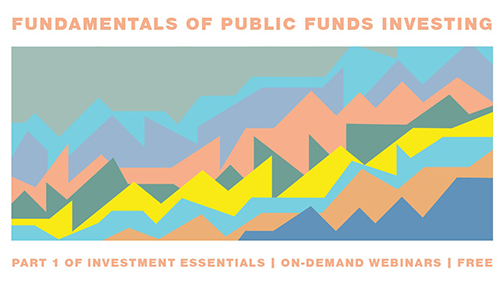 Local agency officials tasked with managing a public funds investment portfolio must incorporate their fiduciary role with fundamental investment concepts and planning to safeguard the principal and liquidity needs of their agency. This six-part on-demand educational series will provide the fundamental concepts, tools, and strategies necessary to manage and oversee public investment portfolios.
Program Details
Select the below image to access the Fundamentals of Public Funds Investing courses through CDIAC's Education Portal. Courses are offered free of charge, but Ed Portal registration is required. Completion of these webinars prior to attending the Intermediate and Advanced courses in the Public Funds Investing Essentials series is strongly encouraged.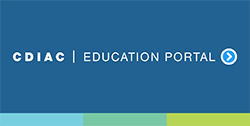 Virtual Study Group
To supplement the independent virtual learning in the fundamentals webinar courses, those who register for the in-person programs (Parts 3 and 4), will be invited to a virtual meeting a week or to before the in-person event. This meeting is the attendee's time to ask questions regarding the prerequisite fundamental webinars and be introduced to the speakers for the in-person programs.
Raffle
As additional motivation to complete these webinars prior to the January 2022 in-person seminars, CMTA is entering anyone who completes the six prerequisite webinars, participates in the virtual study group, and registers for the Intermediate and Advanced programs into a raffle. Prizes to be announced and winner(s) will be drawn during the January 2022 event.
Optional Elective Webinar Series
In 2015, CDIAC produced a seven-part webinar series, The Public Investment Portfolio: A Step-by-Step Examination of Public Investment Securities. Completion of this series is highly recommended prior to participation in the in-person program.
More Information on the Optional Elective Webinar Series
Webinar Descriptions
Certificates of Completion & Continuing Education Credits
Certificate of Completion
CDIAC's Ed Portal will automatically issue a certificate upon completion of each webinar in the series.
CPE Credit
CMTA is an approved provider of CPE credits by NASBA, Please download your Certificate(s) of Completion and submit it to Education@cmta.org to request CPE credit. CMTA will email CPE Certificates within a week of the request.
CMTA Specialized Training Hours
Please submit your Certificate(s) of Completion to Education@cmta.org to request Specialized Training Hours. CMTA will email Specialized Training Hours within a week of the request.
MCLE Credit
CDIAC is an approved provider of Minimum Continuing Legal Education (MCLE) credit by the California State Bar and has approved Session 2, California Government Code, Legal Investments, and Investment Policy, for MCLE credits. Please email CDIAC_Education@treasurer.ca.gov upon completion to request credits.
Other Credits
Participants can submit their Certificate(s) of Completion to their governing entity to request credits. Although not guaranteed, this educational series is accepted by many governing entities as certifiable.
Series Resources
Webinar Resources
Links to slides are included in the webinar description. Full access to replays and all materials are available for free in CDIAC's Ed Portal.
Resources
A full list of resources related to public funds investing is available on the main page for the Public Funds Investment Essentials series. Highlighted resources include:
Contact Information

Contact CDIAC for questions about
this program's content.
CDIACEducation@treasurer.ca.gov

Contact CMTA for questions
regarding registration, certificates,
and specialized training credits.
Education@cmta.org