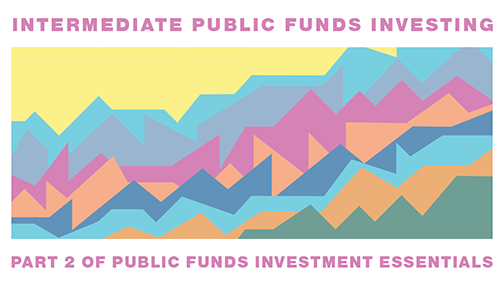 Building on fundamental content covered in the prerequisite Fundamentals of Public Funds Investing webinar series, this interactive seminar provides intermediate concepts, tools, and strategies necessary to manage and oversee public investment portfolios. Panelists will address assessing and adjusting liquidity, understanding risk, developing a benchmark, and analyzing an investment policy.
Event Details
This program is day one of a two-day seminar, usually held each January. Available details on the next offering of this program are below.
Intermediate Public Funds Investing
Wednesday, January 26, 2022
8:00am – 5:15pm
Quiet Cannon Conference Center
Montebello, CA
Government Attendee: $275 Both Days | $150 Daily
Breakfast & Lunch is included
Commercial Attendee: $350 Both Days | $200 Daily
Breakfast & Lunch is included
Venue & Parking Information Quiet Cannon Conference Center
901 Via San Clemente Montebello, CA 90640
Free Parking On Site | Venue Map
Room Block Information
A discounted room rate has been secured at the adjacent hotel, a short 3 minute walk to the Quiet Cannon Conference Center.
Hotel: Hilton Garden Inn Los Angeles Montebello | 801 Via San Clemente, Montebello, CA 90640
Rate: $149 per night, not including taxes and fees
Cutoff: January 7, 2022
2022 Seminar Agenda
This opening session will reinforce some of the most important concepts from the prerequisite webinars.
At the core of public fund investment management is structuring the portfolio to meet an agency's cash flow needs, this session will discuss why cash managers may shorten or lengthen maturities in the investment portfolio to meet the portfolio liquidity objectives.
Don Collins
Vice President of Capital Markets
Wedbush Securities

Hubert (Hubie) White III, CFA
Chief Investment Officer, City and County of San Francisco
President, CMTA
Speaker Bio
Participants will continue exploring the importance of using cash flow analysis to meet liquidity needs and work in groups to analyze cash flows using Excel. This activity will build upon content covered from the preceding session as well as the prerequisite webinar, Cash Flow and Cash Flow Forecasting.

Carlos Oblites
Senior Vice President and Portfolio Strategist
Chandler Asset Management
Speaker Bio
This session will provide the detailed analytical basis for understanding the types of risk public agencies face when investing public funds and discuss how an investment policy manages those risks.

Jason Klinghoffer, CFA
Director, Debt Capital Markets
Mischler Financial Group
Participants will get a hands-on opportunity to explore benchmarking. They will work in groups to develop a benchmark and analyze their investments against the derived benchmark.
Kevin Webb, CFA
Managing Director
Robert W. Baird & Co.
Speakers will discuss how a public agency continuously analyzes their portfolio structure and investment holdings to determine the proper fit and allocation of a properly diversified public portfolio.
Ben Finkelstein, CFA
Managing Director
Cantor Fitzgerald
An Investment Policy is an essential component of a public agency's investment management. This session will go beyond the prerequisite webinar, California Government Code, Legal Investments, and Investment Policy, and discuss how agencies work through the decision making process to modify or add language to their policy. For example, speakers will discuss considerations regarding incorporating Environmental, Social, and Governance (ESG) language in their investment policy.

Tara Dunn
Technical Assistance Manager
CDIAC
CMTA invites you to participate in their evening reception to connect with your peers and the seminar's faculty.

The printable agenda includes session times and learning objectives.
CDIAC and CMTA reserve the right to replace or cancel speakers or make any other changes to the agenda without notice. All information is subject to change.
Presentation Material & Resources
Presentation Material
Slides and handouts for the January 2022 seminar will be posted here once available.
Resources
A full list of resources related to public funds investing is available on the main page for the Public Funds Investment Essentials series. Highlighted resources include:
Health, Safety, and Other In-person Seminar Policies
As the event host, CMTA is closely monitoring Center for Disease Control (CDC), California Department of Public Health (CDPH) and local county guidelines as they pertain to in-person events. By registering for this event you agree to abide by the health and safety requirements outlined in CMTA's Registration Portal. Refund and cancelation policies can also be found on CMTA's website.
Certificates of Attendance & Continuing Education Credits
Certificate of Attendance
CMTA will issue Certificates of Attendance within a week after the program.

CPE Credit
CMTA's CPE Certification is pending NASBA approval for this program. If approved, CMTA will issue CPE Certificates within a week after the program.

CMTA Specialized Training Hours
This program is being reviewed by CMTA for CMTA Specialized Training Hours. for approved sessions, CMTA will issue CMTA Specialized Training Hours within one week after the program.

MCLE Credit
Although CDIAC is an approved provider of Minimum Continuing Legal Education (MCLE) credit by the California State Bar, this program is not eligible for MCLE credits.

Other Credits
Participants can submit their Certificate of Attendance to their governing entity to request credits. Although not guaranteed, this educational series is accepted by many governing entities as certifiable.
Contact Information

Contact CDIAC for questions about
this program's content.
CDIACEducation@treasurer.ca.gov

Contact CMTA for questions
regarding registration, certificates,
and specialized training credits.
Education@cmta.org