Scott Anderson, Ph.D.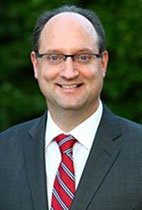 Scott Anderson, Ph.D., is a senior vice president and chief economist at Bank of the West. In this role he analyzes international, national and regional economic trends and provides forecasts for Bank of the West management, business lines and clients.
An experienced economic advisor in the financial services sector, Anderson was recognized as one of the top economic forecasters in the country by Bloomberg and USA Today.
Prior to Bank of the West, Scott was a director and senior economist at Wells Fargo, where he produced the macroeconomic forecast and was the author of the Weekly Economic & Financial Commentary, the Monthly Global Economic Outlook report, and the California and Minnesota Outlook reports. Anderson has also covered the major economies of Europe and Asia, most recently covering Japan, Singapore, South Korea and Taiwan.
Anderson has held positions at Moodyís Analytics and the International Monetary Fund. He was appointed chairman of the American Bankers Association Economic Advisory Committee in 2012 and to the Minnesota Council of Economic Advisors in 2010. Among his numerous professional affiliations, Anderson is a member of the Federal Reserveís Survey of Professional Forecasters and the National Association of Business Economistsí Macroeconomic Forecasting Panel.
Anderson earned his bachelorís degree in economics from the University of Minnesota, his master of philosophy degree in economics and his doctorate in economics at George Washington University.