Gerd-Ulf (G.U.) Krueger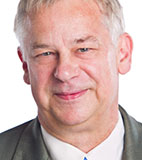 Gerd-Ulf (G.U.) Krueger is principal economist and founder of KruegerEconomics, a housing and economic advisory firm for institutional investors, developers, builders, and state and local governments.
His work ranges from project-specific to strategic analysis of housing supply and demand. Before founding HousingEcon.com, Krueger was a senior vice president and the head of IHP Capital Partners' (IHP) Market Research. Prior to joining IHP, he was deputy chief economist with the California Association of Realtors. He also worked as an industry economist for the Conference Board in New York City.
Krueger has served in an economic advisory role for various mayors of Los Angeles, the California Department of Finance, and the California State Controller. He is past president of the National Association of Business Economics, LA Chapter and past chairman of the Economic Advisory Council of the California Chamber of Commerce.
Krueger lives and works in Los Angeles and has written several articles and op-ed pieces. He has done consulting work for the Olson Company, Shapell Homes, LDC Advisors, IHP Capital Partners, California Public Employees' Retirement System, Hearthstone, and the California State Controller.
He has a master of arts degree in economics from the New School for Social Research in New York, and a master of arts in German literature and modern history from the Free University of Berlin.