News Release
State Treasurer Chiang Pledges Continued Green Investment in
Welcoming Remarks at PRI In Person Event

Taking Place Along Side Governor Brown's Global Climate Action Summit
PR18:55
September 12, 2018
SACRAMENTO – California State Treasurer John Chiang today delivered welcoming remarks at the PRI in Person conference held alongside Governor Brown's Global Climate Action Summit in San Francisco.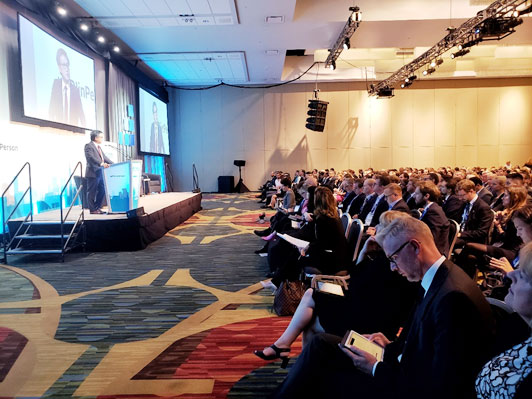 PRI (Principles for Responsible Investment) is the world's leading proponent of responsible investment. Speaking before an assembly of more than 1,200 investors and influencers, Treasurer Chiang challenged, "How can we continue to thrive in the 21st century with 20th century infrastructure?"
Encouraging the use of green bonds to fund California's long-delayed infrastructure projects, Treasurer Chiang added, "So I say, we have got to build. And – if we're going to build – let's build it green. Let's build to protect ourselves from rising sea levels. Let's build to protect ourselves from extreme weather. Let's build to protect ourselves from the horrific wildfires ravaging our state year after year."
Treasurer Chiang is a major proponent of strengthening the market for green bonds. In August, on behalf of the State of California, he signed the "Green Bond Pledge," a declaration with broad and far-reaching impact. States and cities across the nation are being urged to also take the pledge and commit themselves to a strategy of financing infrastructure and capital projects that meet the challenges of climate change with "green bonds," or green financing.
Treasurer Chiang said the next step is for Governor Brown and him to establish a working group to develop and implement a green bonds strategy. His Growing the U.S. Green Bond Market, Volume 2 report contains details of Treasurer Chiang's bold plans.
For more information, including links to volumes 1 and 2 of his Growing the U.S. Green Bond Market, visit Treasurer Chiang's Green Bond page at https://www.treasurer.ca.gov/greenbonds. For more information on PRI, visit their website at https://www.unpri.org/events/pri-in-person. For more information on the Global Climate Action Summit, visit their website at https://www.globalclimateactionsummit.org/.
For more news, please follow the Treasurer on Twitter at @CalTreasurer, and on Facebook at California State Treasurer's Office.