Task Force on Bond Accountability
Connect With Us:
About the Task Force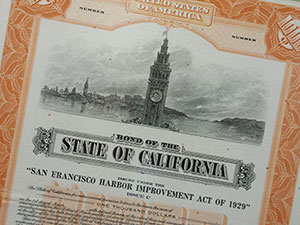 The Task Force on Bond Accountability (TFBA), established by Treasurer John Chiang in February 2015, aims to increase transparency and ensure that monies raised through the sale of government bonds are safe from fraud, abuse, and mismanagement. Members are charged with developing best practices guidelines on the fiduciary care of bond proceeds that will be issued to all State and local government issuers of debt.
Video: Treasurer Chiang outlines task force goals
Data Summary
Below is a summary of State and local government debt issued in California from 2005 to 2014, the most recent year for which information is available. Data is provided by the Treasurerís California Debt and Investment Advisory Commission.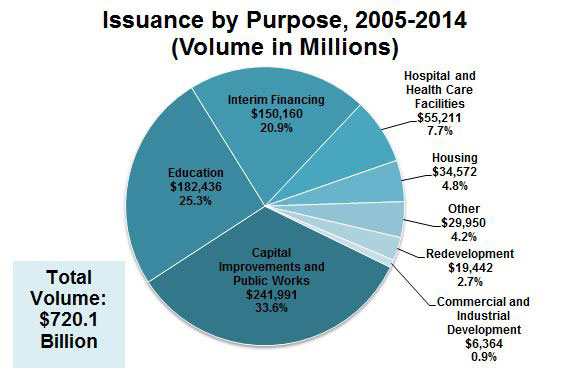 Source: See related raw data in spreadsheet form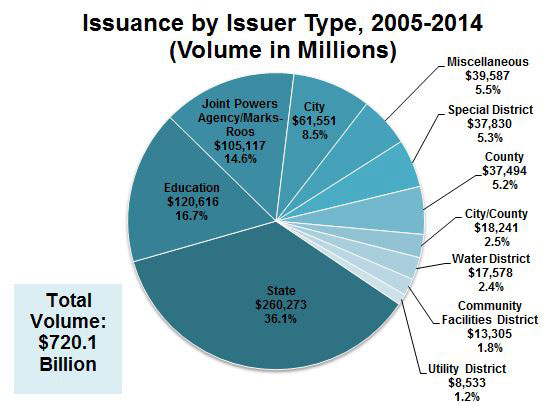 Source: See the related raw data in spreadsheet form
Top 20 Debt Issuers, 2005-2014
| Issuer | Total |
| --- | --- |
| State of California | $164,942,995,000 |
| California Statewide Communities Development Authority | $27,994,474,360 |
| The Regents of the University of California | $20,545,820,000 |
| Los Angeles Unified School District | $19,029,053,200 |
| Los Angeles | $16,920,767,340 |
| California Health Facilities Financing Authority | $15,443,810,000 |
| California Department of Water Resources | $13,749,355,000 |
| Bay Area Toll Authority | $13,149,960,000 |
| California State Public Works Board | $13,105,350,000 |
| Los Angeles Department of Water and Power | $11,531,932,225 |
| Los Angeles County | $9,221,024,215 |
| California Housing Finance Agency | $8,905,404,190 |
| Golden State Tobacco Securitization Corporation | $7,962,494,899 |
| California Infrastructure & Economic Development Bank | $7,671,211,489 |
| San Francisco City and County Airport Commission | $7,541,335,000 |
| California Municipal Finance Authority | $6,672,955,006 |
| Los Angeles Community College District | $6,092,067,543 |
| Los Angeles County Metropolitan Transportation Authority | $5,805,547,396 |
| Metropolitan Water District of Southern California | $5,749,665,000 |
| San Francisco City and County Public Utilities Commission | $5,726,215,000 |
Source: See the related raw data in spreadsheet form, including a full listing of all issuers
Top 20 School District Debt Issuers, 2005-2014
| Issuer | Total |
| --- | --- |
| Los Angeles Unified School District | $19,029,053,200 |
| San Diego Unified School District | $4,472,435,522 |
| San Francisco Unified School District | $1,737,640,000 |
| California School Boards Association Finance Corp | $1,260,760,000 |
| Poway Unified School District | $1,234,859,347 |
| West Contra Costa Unified School District | $977,092,814 |
| Irvine Unified School District | $936,796,514 |
| San Mateo Union High School District | $920,132,858 |
| Oakland Unified School District | $890,240,000 |
| East Side Union High School District | $830,358,356 |
| Long Beach Unified School District | $796,657,292 |
| San Jose Unified School District | $775,257,986 |
| Capistrano Unified School District | $754,604,491 |
| Sacramento City Unified School District | $742,837,966 |
| Corona-Norco Unified School District | $737,320,413 |
| Sequoia Union High School District | $731,345,000 |
| Golden Empire Schools Financing Authority | $710,330,000 |
| Stockton Unified School District | $700,728,776 |
| Santa Clara Unified School District | $687,535,000 |
| Mt Diablo Unified School District | $663,631,188 |
Source: See the related raw data in spreadsheet form
Quick Links
Task Force Meetings
Program Updates