Nadia Sesay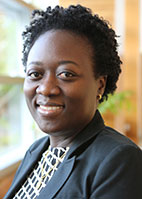 Nadia Sesay was appointed director of the Controller's Office of Public Finance for the City and County of San Francisco by Mayor Gavin Newsom in March 2005. The Office of Public Finance manages the city's $3 billion municipal debt portfolio, oversees the issuance of all new debt secured by property taxes and general fund sources, initiates the city's debt policies and procedures and provides technical expertise for the preparation and monitoring of a 10-year capital plan. In addition, Sesay and her staff provide financial analysis to the mayor, Board of Supervisors, commissioners and department heads.
Sesay has been with the Office of Public Finance for nearly 17 years, serving as financial administrator and bond associate prior to her appointment as director. Before joining the city, she worked for Union Bank of California, N.A., in the corporate trust department as trust administrator.
Sesay also sits on the San Francisco Community Investment Board and serves as chair of the Oversight Board of the Successor Agency to the Redevelopment Agency of the City and County of San Francisco. She was awarded San Francisco's Public Managerial Excellence Award for exemplary leadership, fiscal ingenuity and vision in 2010.