Presents the 22nd Annual CDIAC Pre-Conference to
The Bond Buyer's 33rd Annual California Public Finance Conference
Managing Your Borrowing Costs Through Market Turbulence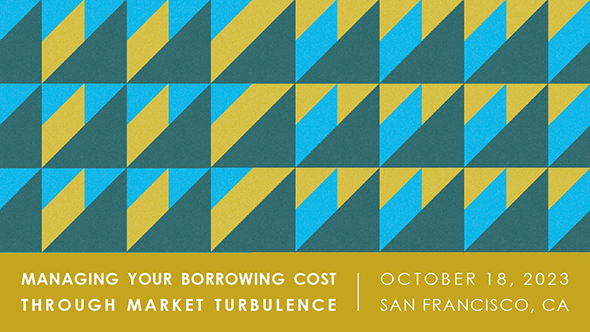 October 18, 2023
San Francisco, California
Agenda | Register Here


After nearly a decade in a historically low interest rate environment, the Federal Reserve's rapid interest rate increases and the growing liquidity concerns in the market have created a challenging borrowing climate. While there are reasons to believe that interest rates may be nearing a short-term peak, municipal issuers continue to face uncertainty about when more favorable market conditions for debt issuance will return. At the same time, the need to finance critical projects persists. This program will feature market professionals and experienced municipal issuers who will explore a variety of strategies employed before, during, and after issuance that can be used to manage borrowing costs, amidst high interest rates and looming market uncertainty.
Speakers
Colin Bettis, County Debt Officer, County of Sacramento
David Brodsly, Managing Director, KNN Public Finance
Bryant Jenkins, Managing Principal, Sperry Capital
Natalie Perkins, Director, Treasury & Revenue, Bay Area Metropolitan Transportation Commission
Nikolai Sklaroff, Capital Finance Director, San Francisco Public Utilities Commission
Daniel L. Wiles, Assistant Treasurer and Tax Collector, Public Finance, Investment and Deferred Income Branch, Los Angeles County Treasurer and Tax Collector
Galen Wilson, Vice President, Goldman Sachs
Simon Wirecki, Head of the Western Region for Public Finance and Managing Director, Jefferies
Questions?
Contact CDIAC for assistance by emailing CDIACEducation@treasurer.ca.gov or calling (916) 653-3269