Presents our 19th Annual Pre-conference at The Bond Buyer's 30th Annual California Public Finance Conference: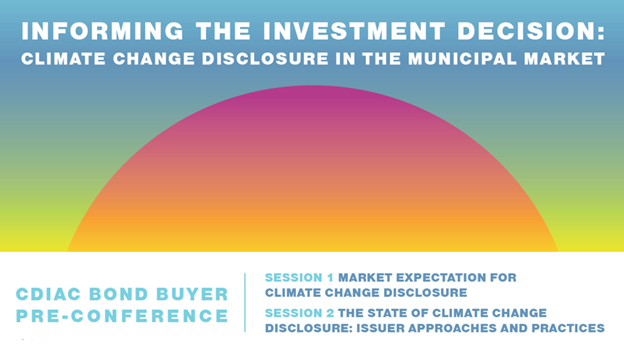 The municipal market has the expectation that issuers will give investors the information they need to make prudent investment decisions. Recent events and market volatility have accelerated the demand for issuer disclosure on how external impacts, such as climate change, can translate to investment risk as well as how issuers are mitigating these risks. Issuers are faced with reconciling how to account for and incorporate these risks in their financial disclosures. This dilemma is exacerbated by the unprecedented and dynamic nature of this topic, as it makes it difficult to discern what information is accurate, relevant, and "material" for the investor. Join us in this two-part series where we will discuss investor expectations for climate change disclosure and how issuers are contending with these expectations.
This is offered as a pre-conference to the Bond Buyer's California Public Finance Conference. The fee for this pre-conference is $29 and registration to the main conference is also required.
Session 1 | Market Expectation for Climate Change Disclosure
Monday, October 26, 2020 | 8:00 AM - 9:30 AM PT
This discussion will explore the market's perspective of how climate is shaping credit quality, how investors are analyzing investment risks related to climate change, how an issuer should address climate change in their disclosures, and how market expectations have evolved over time.
Moderator: Robert Berry, Executive Director, CDIAC
Margaret Backstrom, Managing Director, Morgan Stanley
Kate Gordon, Director, Governor's Office of Planning and Research | Senior Policy Advisor to the Governor on Climate
Jennifer Poree, Analytical Manager and Head of Municipal Cooperative Utilities, S&P Global Ratings
Sarah Wilson, Senior Director, Responsible Investing, Nuveen
Session 2 | Market Expectation for Climate Change Disclosure
Monday, October 26, 2020 | 9:45 AM  - 11:15 AM PT
This session will explain the fundamental legal requirements for disclosing climate risk, present new CDIAC research on the climate disclosure practices of California enterprise issuers, and discuss strategies that some issuers have used to model best practices for disclosure of climate risk.
Moderator: Richard Freund, Sustainable Infrastructure Manager, CDP
Michael Brown, Environmental Finance Manager, San Francisco Public Utilities Commission
Kelly Joy, Senior Research Specialist, CDIAC
Lakshmi Kommi, Director of Debt Management, City of San Diego
Rudy Salo, Partner, Nixon Peabody
Continuing Education Credits
This program is hosted as part of The Bond Buyer's California Public Finance Conference, please contact The Bond Buyer regarding inquiries on continuing education credits for this program.