Presents a Webinar: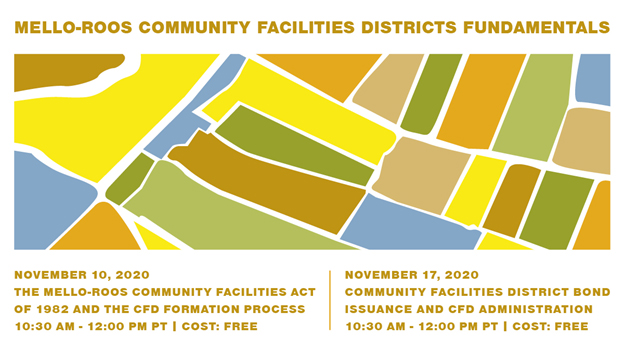 Community Facilities Districts (CFDs), or Mello-Roos Districts, have been used by public agencies since 1982 to finance public infrastructure and community facilities. CFDs may also fund public services, which has been a growing trend in recent years. Because this funding tool is used on the majority of new developments in California, it is imperative that public agency employees understand the fundamentals of CFDs and how they can be implemented to fund infrastructure and services.
This introductory two-part webinars series will provide an overview of CFD fundamentals. Topics include the Mello-Roos act, CFD formation process, and ongoing administration requirements once a CFD has been formed.
Jim Fabian, Principal, Fieldman, Rolapp & Associates, Inc.
Susan Goodwin, Managing Principal, Goodwin Consulting Group, Inc.
Brad Neal, Shareholder, Stradling Yocca Carlson & Rauth, P.C
Session One: The Mello-Roos Community Facilities Act of 1982 and the CFD Formation Process
Tuesday, November 10, 2020 | 10:30 AM – 12:00 PM PT
Session One will kick off with an introduction to the Mello-Roos Community Facilities Act, a review of the history of CFDs, a discussion of pre-CFD formation considerations, and specific steps involved in the CFD formation process. Participants will gain a basic understanding of the role of public agency staff and financing team members in the CFD formation and ongoing CFD administration process.
Session Two: Community Facilities District Bond Issuance and CFD Administration
Tuesday, November 17, 2020 | 10:30 AM – 12:00 PM PT
Session Two will pick up post-CFD formation, with an overview of the CFD bond issuance process, a discussion of a public agency's initial and ongoing disclosure requirements, and a description of the steps involved in ongoing administration of a CFD.
Recommended Readings
Continuing Education Credits
CDIAC sends a Certificates of Attendance to attendees who participate in the program. The certificate will state the name of the program, date, location, beginning time, end time, and the number of hour(s).
Frequently Asked Questions
Will a replay be available?
A replay and transcript will be available approximately two weeks after the broadcast. You can sign up for the webinar even if you cannot attend if you would like to be emailed when the replay is available.
I know I registered but didn't receive login information, what do I do?
Please check your spam or junk folders. It is also possible your organization's spam filter blocked the email from GoToWebinar. If you cannot find it, please contact CDIAC_Education@treasurer.ca.gov we can resend your registration confirmation.
Can I share my registration link for the program with my coworkers?
Every person who wants to join the webinar has their own unique registration. Sharing login information can cause technical issues, in addition only the person registered will receive credit for attending. Please do not share your unique logins and ensure that everyone attending completes their own registration.
Can I get a certificate of attendance, MCLE, or continuing education credits for this webinar?
To be eligible for any credit, an attendee must participate in at least 70% of the webinar's scheduled time. Certificates of attendance will be sent to eligible attendees within two weeks of the original broadcast date. To request MCLE credits, please send an email to CDIAC_Education@treasurer.ca.gov with your state bar number.