Presents a Webinar: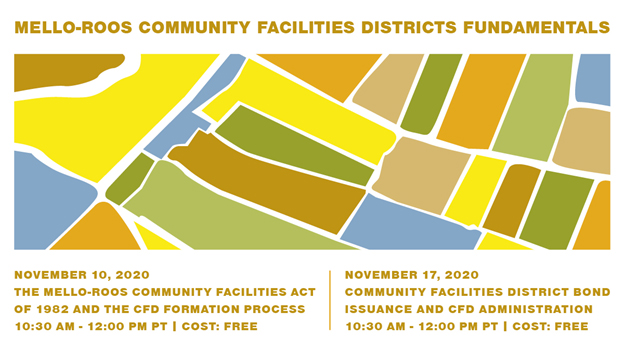 Register for Replay Through Education Portal
Note: The complete program including, replays, transcripts, and slides are available in the CDIAC Education Portal. Registration required but materials are free.
Community Facilities Districts (CFDs), or Mello-Roos Districts, have been used by public agencies since 1982 to finance public infrastructure and community facilities. CFDs may also fund public services, which has been a growing trend in recent years. Because this funding tool is used on the majority of new developments in California, it is imperative that public agency employees understand the fundamentals of CFDs and how they can be implemented to fund infrastructure and services.
This introductory two-part webinars series will provide an overview of CFD fundamentals. Topics include the Mello-Roos act, CFD formation process, and ongoing administration requirements once a CFD has been formed.
Jim Fabian, Principal, Fieldman, Rolapp & Associates, Inc.
Susan Goodwin, Managing Principal, Goodwin Consulting Group, Inc.
Brad Neal, Shareholder, Stradling Yocca Carlson & Rauth, P.C
Session One: The Mello-Roos Community Facilities Act of 1982 and the CFD Formation Process
Originally Aired: November 10, 2020
Session One will kick off with an introduction to the Mello-Roos Community Facilities Act, a review of the history of CFDs, a discussion of pre-CFD formation considerations, and specific steps involved in the CFD formation process. Participants will gain a basic understanding of the role of public agency staff and financing team members in the CFD formation and ongoing CFD administration process.
Session Two: Community Facilities District Bond Issuance and CFD Administration
Originally Aired: November 17, 2020
Session Two will pick up post-CFD formation, with an overview of the CFD bond issuance process, a discussion of a public agency's initial and ongoing disclosure requirements, and a description of the steps involved in ongoing administration of a CFD.
Recommended Readings
Certificate of Attendance For Replays
A certificate of attendance will be automatically issued to those who complete the courses in the CDIAC Education Portal. Participants can submit their Certificate of Attendance to their governing entity to request credits, such as CPE credits. CDIAC's education programs are accepted by many governing entities as certifiable.

CDIAC is an approved provider of Minimum Continuing Legal Education (MCLE) credit by the California State Bar and has approved California Government Code, Legal Investments, and Investment Policy for MCLE credits.