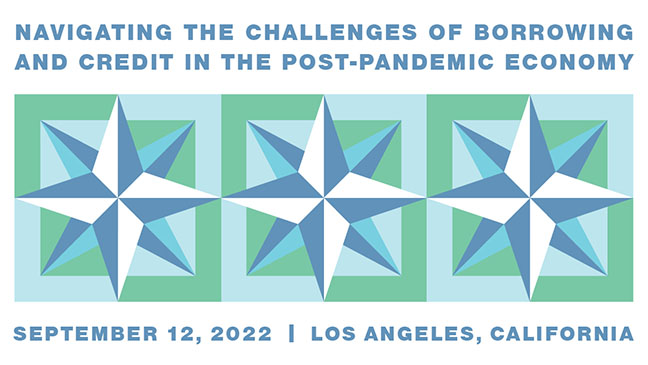 21st ANNUAL CDIAC BOND BUYER PRE-CONFERENCE
As we emerge from the global pandemic, the level of uncertainty in the municipal market and the challenges California issuers are facing have never been greater. The Federal Reserve actions to drive down inflation, the prospect of COVID revenues running dry, societal shifts that have fundamentally modified economies, enormous effect on global trade of geopolitical instability, and increasing probability of a recession are testing issuers in similar and distinctive ways. This program will explore how these challenges and others are affecting the planning of issuers in different sectors, how issuers are using debt to manage these challenges, and how their financing approaches are changing to mitigate the risks of the extraordinary economic conditions.

Session 1: Economic Outlook
Chief Economist Dr. Lindsey Piegza will look at the current state of the economy amid the ongoing pandemic and what it means going forward for overall growth, interest rates and monetary policy. She will cover macro-economic trends in consumer spending and investment, in addition to new monetary and fiscal policy initiatives and the potential economic effects of these changes. She will also examine the changing global and political environment, and how it will affect the economic recovery. Participants will leave this session with an understanding of the possible effect of economic issues on their organizations.
Lindsey M. Piegza, Ph.D., Managing Director, Chief Economist, Stifel, Nicolaus & Company, Incorporated
Session 2: City & County Sector
Cities and Counties have had to question long-term revenue forecasts that were based on fundamentals that may no longer be present in their post-COVID economies. This uncertainty is particularly unsettling as COVID relief funds are spent down. Issuers, their advisors, and sector professionals will discuss their view of these challenges amidst those of the broader market, and how they are approaching new project financing and management of their existing debt portfolio.
Colin Bettis, County Debt Officer, County of Sacramento
Jay Goldstone, Chief Operating Officer, City of San Diego
Eric Hoffmann, Associate Managing Director, Moody's Investors Services
Christopher Mukai, Managing Director, Citigroup
Session 3: Water & Wastewater Sector
California water and wastewater issuers count among their challenges the recurrence of drought, fundamental modification to the usage rates and patterns of enterprise services post pandemic, and significant capital requirements from a regulatory and reinvestment perspective. Issuers and other sector experts will explore the unique risks facing water and wastewater agencies and how they are using and structuring debt to mitigate a dynamic collection of risks in this sector.
Margaret Backstrom, Managing Director, Morgan Stanley
Jenny Poree, Sector Leader, Utilities, S&P Global
Nikolai Sklaroff, Capital Finance Director, San Francisco Public Utilities Commission
Sophia Skoda, Director of Finance, East Bay Municipal Utility District
Session 4: Transportation Sector
The shifting sales tax revenues expectations, large infrastructure commitments, labor and materials scarcity, and changing asset utilization assumptions present additional tests for the transportation sector. Issuers and market professionals will discuss the distinctive challenges that confront California's transportation sector and the public finance strategies being used to meet the borrowing and credit needs of the sector that keeps our economy moving.
Rodney Johnson, Deputy Executive Officer, Finance – Treasury, LA Metro
Tim Mengle, Deputy Executive Officer, Finance, LA Metro
Scott Monroe, Senior Director, Global Infrastructure and Project Finance Group, Fitch Ratings
Ira Smelkinson, Managing Director, Loop Capital Markets
Tatiana Starostina, Chief Financial Officer, Los Angeles World Airports
Luncheon & Keynote
Fiona Ma, CPA, California State Treasurer