The Seven-Member ScholarShare Investment Board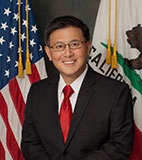 John Chiang
State Treasurer

Residence: Torrance, California.
Background: Mr. Chiang graduated with honors from the University of South Florida with a degree in Finance, and received his law degree from the Georgetown University Law Center. As State Treasurer, he oversees a bank that processes trillions of dollars in transactions every year. He sells Californiaís bonds, invests the Stateís money and manages its cash. Prior to being elected Treasurer, he served from 2007 through 2014 as State Controller. In that office, he took steps during the Great Recession to preserve cash to meet obligations to education and bond holders, worked to ensure the fiscal solvency of the Stateís pension plans, and ensured that $3.1 billion in unclaimed property was returned to the rightful owners. Prior to serving as Controller, he was elected to the Board of Equalization in 1998, where he led with innovative taxpayer-friendly services such as the State's free income tax return preparation service, ReadyReturn.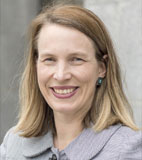 Keely Martin Bosler
Director of Finance

Residence: Sacramento, California.
Background: Keely Martin Bosler was appointed as Director of the California Department of Finance by Governor Jerry Brown in August 2018. She serves as the Governorís chief fiscal policy advisor. Prior to becoming Director, she served as Cabinet Secretary in the Office of the Governor from 2016 to 2018. Director Bosler served as Chief Deputy Director for budget at the Department of Finance from 2013 to 2016. Director Bosler was Staff Director for the California State Senate Budget and Fiscal Review Committee from 2010 to 2013, where she was a consultant from 2004 to 2009. She served as Associate Director for fiscal services at the California Department of Corrections and Rehabilitationís Budget Management Branch from 2009 to 2010, and as a Fiscal and Policy Analyst at the California Legislative Analystís Office from 2000 to 2004. Director Bosler earned a Master of Science degree in applied economics from Cornell University.
Karen Stapf Walters (no photo available)
Executive Director, State Board of Education

Residence: Sacramento
Background: Ms. Stapf Walters has been appointed education policy advisor to the Governor and executive director of the State Board of Education. She served as interim executive director of the Association of California School Administrators since 2012, assistant executive director of governmental relations since 2003 and was an advocate from 1999 to 2003. Ms. Stapf Walters was director of the Education Seminar Programs for the Institute for Fiduciary Education from 1996 to 1998. She was a California Senate Fellow from 1990 to 1991 and continued to serve as a committee consultant and senior staff from 1991 until 1996. She earned a social studies teaching credential and taught in both middle and high schools in California and Ohio from 1979 to 1990.
Angela Acosta-Salazar Ed.D (no photo available)
Senate Rules Committee Appointee

Background: Dr. Acosta-Salazar, educator and community leader is dedicated to the issues of higher education, community empowerment, leadership, and governance. Dr. Acosta-Salazar is currently teaching as an adjunct professor at East Los Angeles College and is working on implementing equity-minded practices by providing professional development for faculty and staff, with the goal of increasing access, course completion, graduation and transfer rates. In addition to promoting student success at the community college level, Dr. Acosta-Salazar teaches for the dual enrollment program in local high schools in the ELAC service area. Dr. Acosta-Salazar has worked for the Los Angeles Community College District for 18 years and has served as a trustee on the Rio Hondo College Board for eight years 2005-2013. Finally, Angela has been a community servant in the nonprofit field serving as the Community Leadership Mentoring Coordinator for Puente, as Director of the HOPE Leadership Institute, an intensive leadership program for professional women, as Director of Public Relations for Southwest Voter Registration Education Project, and as a Deputy Director for the William C. Velasquez Institute, a research and policy institute. She completed her undergraduate degree from the University of California at Irvine, earned a Master of Arts degree in Community and Regional Planning from the University of New Mexico and her Doctorate in Education from Cal State Long Beach, with an emphasis on leadership and governance in community colleges and higher education.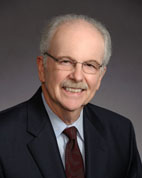 Hal Geiogue
Governor Appointee, California Student Aid Commission Representative

Residence: Sacramento
Background: Mr. Geiogue is a member of the Student Aid Commission. He received his Bachelor of Arts degree in Political Science from the University of California, Berkeley and his Master of Arts degree in Government from the California State University, Sacramento. He retired from the California Legislatureís Assembly Education Committee in 2002 where he served for eight years as the Chief Consultant. Previously in 1991 Mr. Geiogue was appointed Assistant State Treasurer by Treasurer Kathleen Brown. Representing the Treasurer, he chaired the California Education Facilities Authority, the California Student Loan Authority, the California Health Facilities Authority, numerous bond committees and was a member of the Public Works Board. Mr. Geiogue also served for fifteen years as Director of Education in the Office of Legislative Analyst where he directed a staff of nonpartisan professionals who were responsible for the program and fiscal review of K 12 education and postsecondary education institutions and programs in California.
Christopher Jennings (no photo available)
Speaker Appointee

Residence: Altadena, California
Background: Mr. Jennings has been active in the student financial aid profession and community since 1986. He has served on committees with the National Association of Financial Aid Administrators and the California Association of School Financial Aid Administrators (CASFAA), and served as the proprietary school representative for CASFAA in 1995. He has also served on committees with EDFund and California Student Aid Commission (CSAC). In his time in financial aid he has worked to help students to find the financial means to attend college at non-profit and for-profit institutions at both the undergraduate and graduate levels. Since 2002, he has been the Director of Financial Aid at the Fashion Institute of Design & Merchandising in Los Angeles.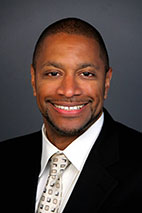 Paul Martin
Governor Appointee, Member at Large
Residence: Marina del Rey, California
Background: Paul Martin has served as senior vice president and chief diversity officer at Sony Pictures Entertainment since 2014, where he was vice president of global recruitment and inclusion from 2008 to 2014. He was vice president of worldwide recruitment at Warner Bros. from 2006 to 2008, where he held several positions from 2003 to 2006, including manager of recruitment, director of recruitment and executive director of worldwide recruitment operations. Martin was a human resources manager at LRN, The Legal Knowledge Company from 2000 to 2003, a recruiting consultant at Johnson and Johnson from 1996 to 1997 and an executive recruiter at Merrill Lynch from 1993 to 1996. He is a member of the PromaxBDA Board of Directors and the Hollywood Cinema Productions Resources Board of Directors. Martin earned a Juris Doctor degree from the University of Southern California, Gould School of Law.