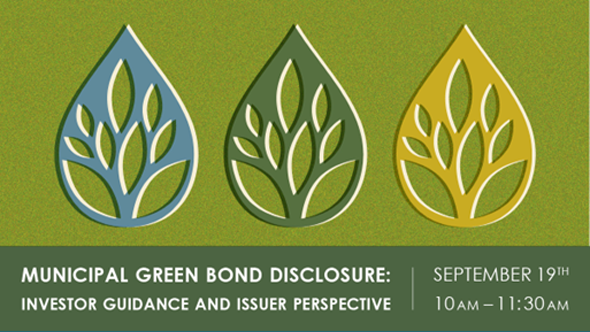 September 19, 2023
10 AM - 11:30 AM

Slides
The requirement of public agency issuers to inform investors through reliable and thorough disclosure is central to a well-functioning municipal market. However, with the continued growth of labeled debt over the last decade – particularly green bonds – issuers may not be familiar with the specific investor expectations for green bond disclosure. In May 2023, the California Green Bond Market Development Committee released a paper, Recommended Approach to Municipal Green Bond Disclosure, to provide insight on investors' expectations. This webinar will explore the recommendations contained in the paper and facilitate a discussion between investors that participated in the development of the report as well as issuers of green bonds.
Speakers
Raul Amezcua, Senior Managing Director, Ramirez & Co. Inc.
Kevin Civale, Shareholder, Stradling Yocca Carlson & Rauth, P.C.
Ruth Ducret, Senior Analyst, Municipal Research, Breckinridge Capital Advisors
Robert Hannay, Treasury Manager, East Bay Municipal Utility District
Emily Robare, Vice President, Municipal ESG Lead, Pacific Investment Management Company LLC
Speaker Biographies Available Here
Recommended Resoures
Recommended Approach to Municipal Green Bond Disclosure
Questions?
Contact CDIAC for assistance by emailing CDIACEducation@treasurer.ca.gov or calling (916) 653-3269.