Featured Projects
Stanford University
3145 Porter Drive
Stanford, California 94304
Stanford University (Stanford) is internationally recognized for providing quality higher education and for the quality of its research for both its undergraduate and graduate programs. The various programs include the core humanities, fine arts, languages and literature, the social sciences, mathematics and the natural sciences in addition to the Schools of Business, Education, Law and Medicine, which offer graduate and professional degree programs.
Project: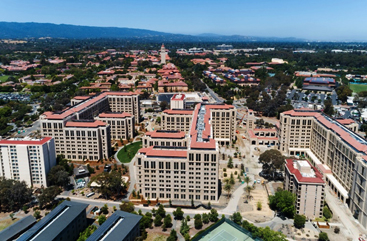 Photo credit: Bernard Andre
On February 28, 2019, CEFA approved Stanford's request to issue up to $600 million in fixed-rate, tax-exempt bonds. The bond proceeds were used for the renovation and construction of various campus projects, including student and faculty housing. The bond proceeds were also used to refinance Stanford's commercial paper issued through CEFA as well as other commercial paper and its revolving credit line. Among the many construction and renovation projects, one of the more notable housing projects would add 2,020 on-campus beds for graduate students in addition to facilities such as group study rooms, a lounge and exercise rooms that would be accessible to the entire graduate community.
Tax-exempt Commercial Paper (TECP) Program
On April 24, 2008, CEFA approved the issuance, from time to time, of tax-exempt commercial paper notes for the benefit of Stanford in an aggregate principal amount not to exceed $300 million at any one time. Proceeds from the TECP Program may be used for the purposes of funding various capital projects. On February 28, 2019, CEFA approved to amend Stanford's authorized project list to include additional projects for its TECP Program. The additional projects include various renovation and construction projects as well as equipment purchases for several of Stanford's facilities.
Karen Kearney, Treasurer
"Stanford University's Escondido Village Graduate Housing Complex was completed in summer 2020. The project is a 1.8 million square foot residential complex, providing a total of 2,434 new graduate student beds, parking and auxiliary service spaces, enabling Stanford to increase the proportion of students it is able to house on campus from just over 50% to 75% of its graduate student population. The complex provides more accessible and affordable housing options than otherwise available in the high-cost local Bay Area market. Significant funding for the project, the largest ever undertaken by the university, was provided by tax-exempt debt issued through CEFA. Stanford has enjoyed a long history with CEFA and was one of the agency's first borrowers in the early 1970's. The university looks forward to a continued relationship with CEFA to address its future tax-exempt borrowing needs."
---
Loyola Marymount University
One LMU Drive
Los Angeles, California 90045
Loyola Marymount University (Loyola) provides various education programs emphasizing undergraduate liberal arts as well as professional and graduate education programs. Loyola's undergraduate division is comprised of the colleges and schools of Liberal Arts, Communication and Fine Arts, Business Administration, Science and Engineering, Film and Television, and Education. Loyola also offers a Graduate Division and a Law School.
Project:
On August 29, 2019, CEFA approved Loyola's request to issue up to $65 million in fixed-rate, tax-exempt bonds. The bond proceeds were used to refund the outstanding CEFA Series 2010A and Series 2015 Bonds. The refunding of these bonds provided Loyola with a net present value savings of approximately $14.4 million.

Thomas O. Flemming Jr., Senior Vice President & Chief Financial Officer
"Loyola Marymount University has a long history and a very good working relationship with CEFA. We find that CEFA is an important partner to Loyola Marymount University when we go to the capital markets. I look forward to working with CEFA in the future when Loyola Marymount University returns to the market to issue debt."