Voting Members of the Committee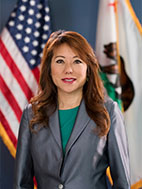 Fiona Ma, CPA
State Treasurer


Background: Ms. Fiona Ma was elected California State Treasurer in November 2018. She previously served as Chair and Vice Chair of the California State Board of Equalization from 2015 to 2019, representing more than nine million taxpayers. There, she led historic reforms to increase efficiency and transparency at the agency. As a state legislator, she was the first and only Asian-American woman ever elected California Assembly Speaker pro Tempore, the second-highest ranking office in the Assembly. During her time as a legislator, she passed landmark legislation to ban toxic chemicals in children's toys, protect small business-owners and expand opportunities for homeowners. She previously served as a San Francisco Supervisor.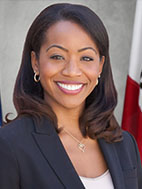 Malia M. Cohen
State Controller

State Controller Malia M. Cohen was elected in November 2022, following her service on the California State Board of Equalization (BOE), the nation's only elected tax commission responsible for administering California's $100 billion property tax system. She was elected to the BOE in November 2018 and was Chair in 2019 and 2022. As Controller, she continues to serve the Board as its fifth voting member.
As chief fiscal officer of the world's fifth-largest economy, Controller Cohen's primary responsibility is to account for and protect the state's financial resources. Controller Cohen also independently audits government agencies that spend state funds, safeguards many types of property until claimed by the rightful owners, and administers the payroll system for state government employees and California State University employees. She serves on 70 boards and commissions with authority ranging from affordable housing to crime victim compensation to land management.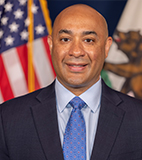 Joe Stephenshaw
Director of Finance

Joe Stephenshaw was appointed as Director of the California Department of Finance by Governor Newsom in July of 2022. In this role, he serves as the Governor's Chief Fiscal Policy Advisor. Prior to his appointment, Stephenshaw served in Governor Newsom's Office as a Senior Counselor on Infrastructure and Fiscal Affairs.

Stephenshaw was Staff Director for the Senate Budget and Fiscal Review Committee from 2017 to 2022. He held multiple positions in the California Legislature from 2008 to 2017, including serving as a Policy Consultant in the Office of the Senate President pro Tempore, a Special Advisor to the Speaker of the Assembly, and as a Budget Consultant for both the Assembly Budget Committee and the Senate Budget and Fiscal Review Committee. Stephenshaw was a Budget Analyst for the California Department of Finance from 2005 to 2008. Stephenshaw is a graduate of Menlo College with a bachelor's degree in Business Administration. He also earned a Master of Business Administration degree from California State University, Sacramento.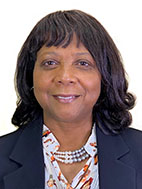 Tiena Johnson Hall, Executive Director
California Housing Finance Agency

Tiena Johnson Hall, Executive Director of the California Housing Finance Agency, is furthering the Agency's mission to create and finance progressive housing solutions so more Californians have a place to call home. Through her leadership of CalHFA, the state's affordable housing lender, she engages mortgage lenders, affordable housing developers, state and local agencies, advocacy organizations, public officials, and private financing markets to work collaboratively to create housing options in reach and accessible for more low- and moderate-income Californians.
Prior to her appointment, Ms. Johnson Hall served on the CalHFA Board of Directors from 2014 and was the Senior Vice President and Manager of Community Development Finance for BBVA now a member of PNC Bank. She held various leadership positions for financial, banking and housing organizations such as Vice President and Community Development Manager, Bank of the West (2014); Senior VP and Relationship Manager, U.S. Bank (2005-2013); Director of Housing, Major Projects Division of the Los Angeles Housing and Investment Department (2004-2005); Senior VP and Regional Manager, Bank of America Community Lending (1997-2003); Finance Development Officer, Major Projects Division of the Los Angeles Housing and Investment Department (1995-1997); Project Manager, Abode Communities (1991-1994). She also served on various housing and financial boards and councils.
Ms. Johnson Hall received her Bachelor's Degree in Economics from Howard University and Master of Business Administration (MBA) from the University of Redlands.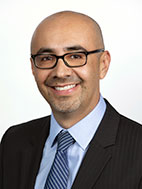 Gustavo F. Velasquez, Director
California Department of Housing and Community Development (HCD)

In May of 2020 Gustavo Velasquez was appointed by Governor Gavin Newsom director of the California Department of Housing and Community Development. In this leadership role, Velasquez leads California's housing policy agenda and administers a wide range of programs that produce, preserve, and protect affordable housing and communities of opportunity across the state.
Velasquez was senior director at the Urban Institute, a renowned national research organization working to provide data analysis and insights to policymakers and practitioners in ways both relevant and actionable. Velasquez served for nearly three years as assistant secretary for fair housing and equal opportunity at the US Department of Housing and Urban Development (HUD). He served on behalf of the president as the strategic lead of the fair housing and inclusive community agenda for the Obama administration. During his tenure, HUD achieved groundbreaking enforcement victories in fair lending and in major housing discrimination cases. Velasquez led efforts to promulgate the landmark Affirmatively Furthering Fair Housing rule, a key tool for cities, states, and other HUD funding recipients to reduce inequality and disparities in access to opportunity.
Velasquez worked in executive roles in the administrations of DC mayors Anthony Williams, Adrian Fenty, and Vincent Gray. He also has nonprofit experience as executive director of the Latino Economic Development Center, a local community development organization in Washington, DC, and Congreso de Latinos Unidos, the leading social service provider to Latinos in Philadelphia.
Velasquez has served in numerous boards and committees of financial institutions, civil rights groups, and educational organizations at the local and national levels. He graduated from the University of Pennsylvania with a master's degree in public administration.
Non-Voting Members of the Committee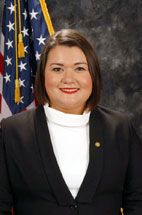 Vivian Moreno
City Representative

Councilmember Vivian Moreno was elected to represent the City of San Diego's Eighth City Council District in 2018. Councilmember Moreno currently serves as Chair of the Land Use and Housing Committee, Vice Chair of the Committee on the Environment, a member of the Committee on Budget and Government Efficiency, Committee on Infrastructure and the Committee on Public Safety and Livable Neighborhoods. She also serves on the San Diego Metropolitan Transit System Board, the Otay Valley Regional Park Policy Committee, the SANDAG Bayshore Bikeway Working Group, SANDAG Borders Committee, SANDAG Public Safety Committee, San Diego Consortium Policy Board, the Tijuana Innovadora Advisory Council and Chairs the Otay Mesa Enhanced Infrastructure Financing District Public Financing Authority. Councilmember Moreno was recently appointed by California Speaker Anthony Rendon to the California tax Credit Allocation Committee.
Councilmember Moreno's priorities include ensuring that the residents of District 8 receive the equitable services and resources they need for a better quality of life, including the building of more housing for our working families, repairing our streets and roads, ensuring safe routes to school, advocating for more parks and libraries for our youth and promoting initiatives that bring jobs to District 8.
Councilmember Moreno is a lifelong resident of San Diego and graduated with a Bachelor's Degree in Political Science with a focus on International Relations from the University of California at San Diego. Prior to working in the public sector, Councilmember Moreno worked as a buyer for a metal distributor. She lives in San Ysidro and enjoys traveling, reading and spending time at the beach.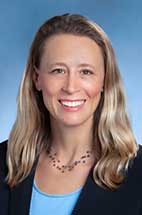 Terra Lawson-Remer
County Representative

Supervisor Terra Lawson-Remer is a third-generation San Diegan, who served as Senior Advisor in the Obama Administration developing environmental policies to cut pollution from oil drilling and mining. She has worked around the world to create jobs, restart businesses, and generate economic activity after a crisis as an economist with the United Nations and World Bank.
Terra has a proven track-record of environmental leadership. She is fighting to protect our open spaces from sprawl development and our communities from traffic and congestion and implement a bold County Climate Action Plan to fight climate change and create new economic opportunities for local businesses and workers.
After graduating from La Jolla High and Yale, Terra earned a full scholarship to law and graduate school, receiving her PhD and law degree from NYU. Terra is also a certified emergency medical responder (EMT), and in her free time she takes kids on backpacking trips to teach teamwork, personal resilience, and respect for nature.
Today, Terra lives in Encinitas with her daughter Eevakai.