Voting Members of the Committee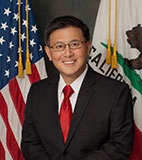 John Chiang
State Treasurer

Residence: Torrance, California.
Background: Mr. Chiang graduated with honors from the University of South Florida with a degree in Finance, and received his law degree from the Georgetown University Law Center. As State Treasurer, he oversees a bank that processes trillions of dollars in transactions every year. He sells California's bonds, invests the State's money and manages its cash. Prior to being elected Treasurer, he served from 2007 through 2014 as State Controller. In that office, he took steps during the Great Recession to preserve cash to meet obligations to education and bond holders, worked to ensure the fiscal solvency of the State's pension plans, and ensured that $3.1 billion in unclaimed property was returned to the rightful owners. Prior to serving as Controller, he was elected to the Board of Equalization in 1998, where he led with innovative taxpayer-friendly services such as the State's free income tax return preparation service, ReadyReturn.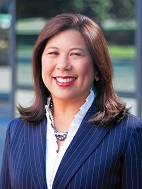 Betty T. Yee
State Controller

Residence: Alameda, California
Background: Betty T. Yee was elected Controller in November 2014, following two terms on the California Board of Equalization (BOE). As the state's chief fiscal officer, Yee chairs the Franchise Tax Board and serves as a member of the California Public Employees' Retirement System and the California State Teachers' Retirement System boards, and she continues to serve BOE as its fifth voting member. Yee also serves on the board of Ceres, a nonprofit working to mobilize large investors to advance global sustainability and take stronger action on climate change. Yee serves on dozens of boards and commissions with authority ranging from land management to crime victim compensation. As a member of the State Lands Commission (and chair in even-numbered years), she helps steward public trust lands, waterways, wharves, and resources—including oil, gas, and geothermal—through economic development, protection, and restoration consistent with environmental needs.  Through financing authorities, Yee works to create incentives to increase affordable housing in California.  Controller Yee has over 30 years' experience in public service, state and local finance, and tax policy. As Chief Deputy Director for Budget with the California Department of Finance, she led development of the Governor's Budget. Prior to this, she served fiscal and policy committees in both houses of the California Legislature.  She cofounded the Asian Pacific Youth Leadership Project, which exposes California high school youth to public policy and public service. A native of San Francisco, Yee received her bachelor's degree in sociology from the University of California, Berkeley, and holds a master's degree in public administration.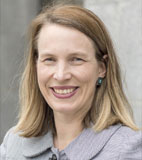 Keely Martin Bosler
Director of Finance

Background: Keely Martin Bosler was appointed as Director of the California Department of Finance by Governor Jerry Brown in August 2018. She serves as the Governor's chief fiscal policy advisor. Prior to becoming Director, she served as Cabinet Secretary in the Office of the Governor from 2016 to 2018. Director Bosler served as Chief Deputy Director for budget at the Department of Finance from 2013 to 2016. Director Bosler was Staff Director for the California State Senate Budget and Fiscal Review Committee from 2010 to 2013, where she was a consultant from 2004 to 2009. She served as Associate Director for fiscal services at the California Department of Corrections and Rehabilitation's Budget Management Branch from 2009 to 2010, and as a Fiscal and Policy Analyst at the California Legislative Analyst's Office from 2000 to 2004. Director Bosler earned a Master of Science degree in applied economics from Cornell University.
Non-Voting Members of the Committee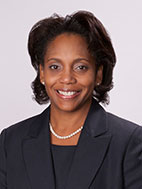 Tia Boatman-Patterson, Director
California Housing Finance Agency

Tia Boatman Patterson is the Executive Director of the California Housing Finance Agency (CalHFA). Prior to her appointment, Ms. Patterson served on the CalHFA Board of Directors and was General Counsel of the Sacramento Housing and Redevelopment Agency (SHRA). Ms. Patterson's legal management of SHRA also covered the legal department's services to SHRA-administered non-profit corporations; the City and County Community Development Block Grant funds, HOME funds, Housing Trust Funds; and housing bond programs. Her responsibilities also included legal oversight of SHRA's approximately 14,000 public housing tenants, including approximately 3,500 public housing units and 11,000 Housing Choice Vouchers. Prior to serving as the General Counsel Ms. Patterson was a special assistant to the Speaker of the California State Assembly, where she provided policy expertise and advice on subject matters falling within the purview of the Assembly Committees on Housing and Community Development, and Jobs and Economic Development. Before returning to the Assembly in 2004, Ms. Patterson was a senior associate with Best Best & Krieger LLP in the Municipal and Redevelopment Practice group of the Sacramento office. Ms. Patterson's leadership of CalHFA focuses on the organization's mission to create and finance progressive housing so more Californians have a place to call home. She works with Single Family and Multifamily lenders and developers in addition to engaging with private financing markets, federal housing agencies and localities to accomplish that mission. CalHFA has begun innovative efforts to create new loan products that will continue to support the needs of Californians. Ms. Patterson looks forward to expanding the reach of those programs in the coming months. Ms. Boatman-Patterson received her Bachelor of Arts in Political Science from San Diego State University, and her Juris Doctorate from the University of Pacific, McGeorge School of Law. While in law school, she received highest honors in Trial Preparation and Advocacy and graduated as a member of the National Order of Barristers.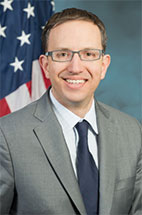 Ben Metcalf, Acting Director
CA Housing and Community Development (HCD)

On February 29, 2016, Governor Edmund G. Brown, Jr. appointed Mr. Metcalf as Director of the State Department of Housing and Community Development (HCD). Mr. Metcalf comes to HCD from the U.S. Department of Housing and Urban Development (HUD) in Washington, D.C., where he served in several positions including most recently, as an appointee of President Obama in the role of Deputy Assistant Secretary of the Office of Multifamily Housing Programs. In that capacity, Mr. Metcalf oversaw a portfolio of insured or assisted housing serving 2.5 million households through more than $11 billion of annual rental assistance and $75 billion of federally insured mortgages. Prior to HUD, Mr. Metcalf worked with BRIDGE Housing Corporation; a California based real estate development company that focused on affordable housing and public/private partnerships. Mr. Metcalf earned a Masters of Public Policy in Public Policy and Urban Planning from the Harvard Kennedy School.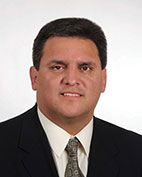 Santos Kreimann
County Representative

With more than 25 years of public service experience, Santos H. Kreimann has held a variety of positions in Los Angeles County government, including in the Treasurer and Tax Collector's Office, the Department of Health Services, Beaches and Harbors and the Chief Executive Office. Since January 2015, Mr. Kreimann has served as Chief Deputy Assessor in the Los Angeles County Assessor's Office. As Chief Deputy Assessor, he is responsible for assisting Assessor Jeffrey Prang with managing the day-to-day operations of the department, and overseeing an annual operating budget of approximately $170 million. The department currently employs more than 1,300 appraisers, managers and support staff spread throughout 7 offices in Los Angeles County. The department is responsible for valuing more than 2.6 million secured and unsecured property parcels with a value of approximately $1.3 trillion. Mr. Kreimann received his Bachelor of Arts degree in Business Administration from California State University, Los Angeles in 1991. He is a Certified General Real Estate Appraiser by the State of California and a member of the California Assessors' Association.
Ray Mueller
City Representative