The Need for Green
The future is green, but how do we pay for the conversion from a fossil fuel-based economy and infrastructure to cleaner, greener, and more sustainable alternatives?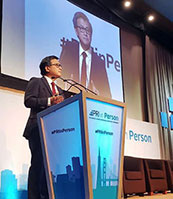 We've gathered the best minds in the green bond marketplace to develop actionable strategies to stimulate a more robust green market in the United States and elsewhere.
Executing those strategies is the next step, and can be found by clicking the links on the left of this page.
Additionally, only a few weeks ago, with the full endorsement of Governor Brown — Treasurer Chiang signed the Green Bond Pledge on behalf of California, and made California the first state in the nation to pledge to use green financing to combat climate change. This Pledge commits the world's 5th largest economy to using green bonds to efficiently raise billions of dollars in new and affordable capital to build climate-friendly infrastructure. It's time our major infrastructure projects align with climate realities, so when we build, we must build green!