Treasurer Releases Blueprint for Growth and Innovation: First Biennial Report Outlines Plan to Improve Infrastructure, Government Efficiency
State Treasurer John Chiang today released an extensive blueprint for fixing California's dilapidated roads, bridges and other infrastructure. The report also takes on many of the seemingly-intractable problems facing Californians today, from its affordable housing shortage and emerging retirement security crisis to local government bankruptcy and predatory Americans with Disabilities Act (ADA) lawsuits. Read this news release.
Where's the Money? Financing the Green Economy
Just over a month ago, nearly every country on the planet met in Paris and committed to a landmark agreement to combat climate pollution and stave off destructive climate change. As Treasurer, I intend to use my ability to finance green projects to advance the goals of the historic Paris accord. I sell bonds to raise money for non-polluting transportation, clean water facilities, and pollution control. Read More in the Treasurer's Monthly Newsletter Intersections.
Treasurer Chiang Comments on the State of the State
State Treasurer John Chiang issued the following statement on the State of the State:
"Today's message from the Governor offers a balance of increased strategic investment tempered by fiscal constraint," said Chiang. "Renewal of the California dream of endless possibility depends on how we manage our state's curse of boom or bust revenues, as well as how we approach the state's crumbling infrastructure and growing economic inequality."
Treasurer Grants Incentives To Electric Vehicle and Aerospace Companies
An economic development agency chaired by State Treasurer John Chiang on Tuesday approved nearly $40 million worth of sales tax exclusions for California's leading electric vehicle maker and a fast-growing space satellite manufacturer. The action by the California Alternative Energy & Advanced Transportation Financing Authority underscores the Treasurer's commitment to provide significant financial incentives to cutting-edge companies, such as Palo Alto-based Tesla Motors Inc. and Millennium Space Systems Inc. of El Segundo. Read this news release.
Treasurer Chiang Helps Fresno Business Expand
Treasurer John Chiang helped a Fresno business expand by facilitating a loan valued at $150,000 through the California Capital Access Program (CalCAP) Collateral Support Program, which encourages banks and other financial institutions to lend to small businesses that would otherwise have difficulty obtaining financing. The loan benefited Fresno's Belmont Radiator Shop, which repairs radiators and semi-trucks. The loan was made possible through collaboration between Fresno Community Development Financial Institution and the California Pollution Control Financing Authority, which administers the CalCAP programs and is chaired by the Treasurer. The radiator shop was established in 1998 and it is owned by Teodoro and Leticia Pizano.
Buy California Bonds
Californians face great challenges as we work together to make our state a great place to live -- for us and future generations. By purchasing California bonds, you can invest in quality schools, safer communities, affordable housing and improved transportation systems. You can help build parks and libraries, and preserve our natural resources.
To learn more about California bonds and how to purchase them, visit Buy California Bonds.
College Access Tax Credit Fund
Help California's college students get the funds to stay enrolled in school and earn a substantial tax credit when you do. A portion of the money you contribute to the College Access Tax Credit Fund may go toward increasing the Cal Grant B Access awards. By participating for the 2015 taxable year, you will receive a state tax credit equal to 55 percent of your donation.
To learn more about the College Access Tax Credit Fund and how to apply, please visit College Access Tax Credit Fund.
Data Bank
Financing Jobs/Education/Health Care/Green Economy/Housing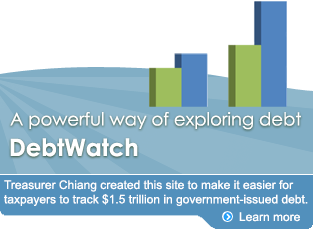 Calendar of Events
Events scheduled for 12/5/2012:
There are currently no events scheduled for this date.
Bond Finance
State & Local Agency Investments
Features
Bay-Delta Report