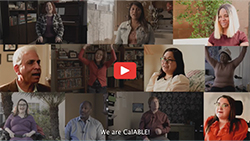 About the California Achieving a Better Life Experience (CalABLE) Program
For many people with disabilities, the fear of losing critical public benefits, coupled with the high cost of support expenses, has limited them from building financial security.
Until recently, individuals receiving federal benefits have been restricted in the amount of money they can save, essentially keeping them in poverty and preventing them from planning for the future. When the Stephen Beck Jr. Achieving a Better Life Experience (ABLE) Act was signed into federal law by President Obama in 2014, these thresholds were no longer an obstacle, as the law provided that eligible individuals with disabilities could now save above the $2,000 resource limit without impacting their eligibility for means-tested public benefits, such as such as Supplemental Security Income (SSI) and Medicaid/Medi-Cal. The ABLE Act has been heralded as one of the most important pieces of disability legislation since the Americans with Disabilities Act.
The CalABLE Savings Plan opened to the public on December 18, 2018. The program enables Californians and out-of-state residents the ability to save for disability-related expenses by putting money in tax-advantaged investments, while protecting their eligibility for means-tested public benefits programs. After-tax contributions allow earnings to grow tax-deferred, and withdrawals, when used for a broad range of Qualified Disability Expenses, are federal and state tax-free. The Plan is managed by Vestwell State Savings, LLC. The California ABLE Act Board sets investment policies and oversees all activities of CalABLE.
Full program details and information on how to enroll is available at CalABLE's enrollment website: CalABLE.ca.gov.
California Laws Governing CalABLE Accounts:
In 2022, the following statute was adopted:
In 2019, the following statute was adopted:
In 2017, the following statutes were adopted:
In 2015, the following statutes were adopted: