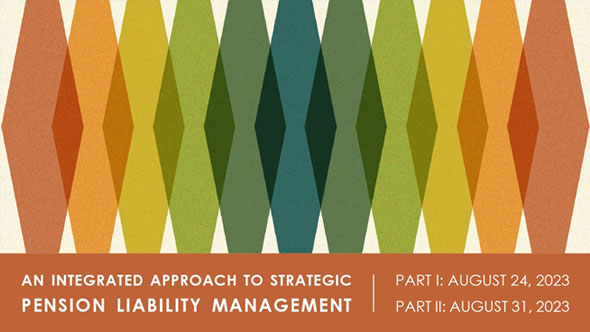 Part 1: August 24, 2023
Part 2: August 31, 2023
Part 1 Slides | Part 2 Slides
The past three years have been characterized by sudden and drastic changes in the financial markets, which have directly affected the funding status of pension liabilities for public agencies. The California Debt and Investment Advisory Commission's (CDIAC's) new two-part webinar series, An Integrated Approach to Strategic Pension Liability Management, is designed to discuss how recent market events have impacted actuarial calculations, and how current market conditions impact the viability and risk/reward of various cost management strategies available to public agencies. This webinar series will also present case studies of how different agencies have utilized an integrated strategic approach to mitigate pension liability risk.
This webinar series will cover intermediate and advanced content related to pension liabilities and management strategies. Fundamental understanding of pensions and pension liabilities is recommended prior to participating in the webinar. Introductory knowledge relevant to this content series can be accessed through CDIAC's Pension Fundamentals for Elected Officials courses that are readily available for free on CDIAC's Education Portal.
Part 1: Management Strategies to Meet the Resurging Pension Challenge
The first session of this two-part series addresses how recent market conditions (investment returns) and actuarial assumption changes have affected pension liability calculations as well as the resulting implications for public agencies. This session will also introduce a variety of cost management strategies and discuss how market conditions have affected their associated benefits and risks.
Part 2: Pension Management Strategies Applied
The second session explores more deeply the various pension liability management strategies and what public agencies need to consider when forming pension management policies. This session will also feature case studies demonstrating how these strategies have been integrated by different agencies to meet their specific needs.
Speakers
Edward Enriquez, Assistant City Manager | CFO/Treasurer, City of Riverside
Mike Meyer, Vice President, NHA Advisors
Tabatha Miller, Director of Finance, City of Arcata
Todd Tauzer, Vice President, Segal
Lori Zeller, Deputy Chief, Orange County Fire Authority
Full speaker biographies available here
Recommended Resoures
Pension Fundamentals for Elected
Making Sense of Public Pensions
City of  Riverside's CalPERS Challenge
Questions?
Contact CDIAC for assistance by emailing CDIACEducation@treasurer.ca.gov or calling (916) 653-3269.