CalSavers Retirement Savings Board
Overseeing the CalSavers Retirement Savings Program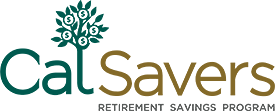 Highlights
About CalSavers
Connect With Us
Deadlines have passed for employers with 5 or more employees. Avoid penalties. Register at CalSavers.com.
CalSavers is California's retirement savings program designed for the millions of Californians who lack a way to save for retirement at their job.
CalSavers was created by legislation passed in 2016 requiring California employers that do not sponsor a retirement plan to participate in CalSavers – an automatic enrollment individual retirement account (IRA) with no employer fees or fiduciary liability. Operating at no taxpayer expense, CalSavers is professionally managed by private sector financial firms with oversight from a public board chaired by the State Treasurer.
The registration deadlines have passed for most employers. If employers missed their registration deadline, they should register today to avoid penalties.

Each year, newly mandated employers will receive notifications informing them about their mandate status and will be required to register by the end of the calendar year if they have five or more employees and do not sponsor a retirement plan.
Have fewer than five employees? As of January 1, 2023, your business can join CalSavers. Learn more at employer.calsavers.com.
MISSION:
Ensure all Californians have a path to financial security in retirement by providing a simple, portable, low-cost way for workers to invest in their futures.