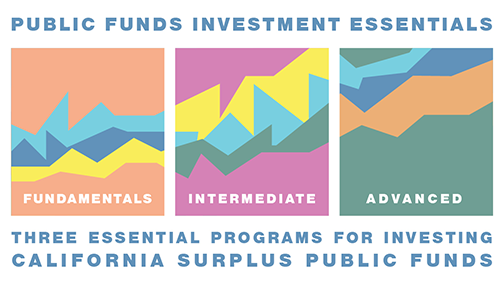 Series Available On-Demand for Free in CDIAC's Ed Portal
The California Debt and Investment Advisory Commission (CDIAC) proudly offers a three-part educational series on the investment of surplus public funds, Public Funds Investment Essentials.
Part One: Fundamentals
Part Two: Intermediate
Originally Aired: January 26, 2022 | Slides
At the core of public fund investment management is structuring the portfolio to meet an agency's cash flow needs, this session will discuss why cash managers may shorten or lengthen maturities in the investment portfolio to meet the portfolio liquidity objectives. After completing this session, a successful learner will be able to:
Define Different Types of Duration
Identify How Other Municipalities Analyze Their Cash Flows
Analyze Short-term Fixed Income Market Liquidity Options for Cash Flow
Identify Resources for Trade Information, Such as Bloomberg and FINRA
Don Collins, Vice President of Capital Markets, Wedbush Securities
Hubie White, III, CFA, CTP, Chief Investment Officer, City and County of San Francisco
Originally Aired: February 1, 2022 | Slides
This session will provide the detailed analytical basis for understanding the types of risk public agencies face when investing public funds and discuss how an investment policy manages those risks. After completing this session, a successful learner will be able to:
Differentiate Types Fixed Income Investment Risks Including: Inflation Risk, Interest Rate Risk, Liquidity Risk, Reinvestment Risk, and Credit Risk
Interpret Strategies to Mitigate Fixed Income Investment Risks
Illustrate Ideas on How to Integrate Risk Mitigation Strategies Into an Investment Policy
Jason Klinghoffer, CFA, Director, Debt Capital Markets, Mischler Financial Group
Bret Black, Principal Treasury Investment Officer, County of Kern
Originally Aired: February 8, 2022 | Slides
An Investment Policy is an essential component of a public agency's investment management. This session will go beyond the prerequisite webinar, California Government Code, Legal Investments, and Investment Policy, and discuss how agencies work through the decision-making process to modify or add language to their policy. For example, speakers will discuss considerations regarding incorporating Environmental, Social, and Governance (ESG) language in their investment policy. After completing this session, a successful learner will be able to:
Analyze Essential Components of an Investment Policy
Use Resources to Develop, Maintain, and Certify an Investment Policy
Examine How Other Agencies Integrate New or Complex Topics Into Their Policy
Examine Sample Investment Policies
Moderator: Bill Blackwill, Managing Director, Stifel, Nicolaus & Co
Tara Dunn, Technical Assistance Manager, CDIAC
John Johnson, Chief Deputy Treasurer, County of San Bernardino
Michael Solorza, Director of Finance, City of Montebello

Part Three: Advanced
Originally Aired: February 10, 2022 | Slides
This session will give a brief overview of CDIAC's Local Agency Investment Guidelines (LAIG) discuss recent LAIG changes. This year's current topic is sophisticated approaches to investment management, such as structured agreements and other innovative--yet often complex--strategies that may require internal deliberation and legal counsel. The discussion may include the use of California Government Code in a more sophisticated manner, such as leveraging opportunities afforded by the updated accredited investor and qualified institutional buyer (QIB) rules, as well as the use of technology to manage investment operations and an exploration of grey areas in Government Code that pose challenges to local agencies. After completing this session, a successful learner will be able to:
Access the LAIG
Examine Recent Legislative Updates
Formulate the Impacts of Recent Legislative Updates to Managing a Local Investment Portfolio
Recognize Sophisticated Approaches to Investment Management
Angelica Hernandez, Deputy Executive Director, CDIAC
Monique Spyke, Managing Director, PFMAM
Originally Aired: February 22, 2022 | Slides
This session will explore the due diligence that should be performed prior to an investment purchase, such as the proper fit and allocation of a properly diversified public portfolio. This session will also consider advanced security selection, such as callable vs. bullet structures. The presenter will compare spreads using the Option Adjusted Spread (OAS) and yield spread analysis, and discuss the application of step-ups and floaters. After completing this session, a successful learner will be able to:
Evaluate Strategies to Complete Due Diligence Prior to Purchase
Devise How to Research How Pooled Investments Fit Into a Properly Diversified Portfolio
Evaluate Callable vs. Bullet Structures
Compare Spreads Using OAS and Yield Spread Analysis
Rick Phillips, President and Chief Investment Officer, FHN Financial Main Street Advisors
Originally Aired: February 24, 2022 | No Slides
Those involved in public fund investing likely won't use an economic forecast to time the purchase or sale of investments, yet, they have a need to understand economic events as, at a minimum, their board or oversight committee might ask or want a presentation on these topics. Further, economic events can have drastic impacts on an agency's liquidity and cash flow needs. This session will discuss fundamental economic concepts and offer a practical application of how this information can be translated for use by a public fund investment official. The Federal Open Market Committee will be discussed, in addition to its dual mandate to manage the world's largest economy while using monetary policy to promote growth or cool an overheating economy. After completing this session, a successful learner will be able to:
Evaluate Basic Economic Forecast Concepts
Formulate How to Use Economic Forecast Information as a Public Investment Official
Examine How Other Municipalities Provide Market Commentary to Their Board
Manage Safety, Liquidity, Yield Message to Board Through Economic Cycles
Kevin P. Webb, CFA, Managing Director, Robert W. Baird & Co.
Series Information
CDIAC Investment Publications
Highlighted CDIAC investment publications most applicable to the Public Funds Investing Essentials courses are listed below. A full library of publications back to 2000 are available in CDIAC's Publication Database.
Recommended Readings
The Public Funds Investing Essentials courses are built from educational programs CDIAC has offered since 1996. Archival resources back to 2008 are summarized below, all available program details are posted in CDIAC's Archives By Year.
A certificate of attendance will be automatically issued to those who complete the courses in the CDIAC Education Portal. Participants can submit their Certificate of Attendance to their governing entity to request credits, such as CPE credits. CDIAC's education programs are accepted by many governing entities as certifiable.
Contact Information

Contact CDIAC for questions about content, registration, certificates of attendance, and replays.
CDIACEducation@treasurer.ca.gov