CMTA and CDIAC Present
PUBLIC FUNDS INVESTMENT: STRATEGY IN PRACTICE
A Public Funds Investment Essentials Workshop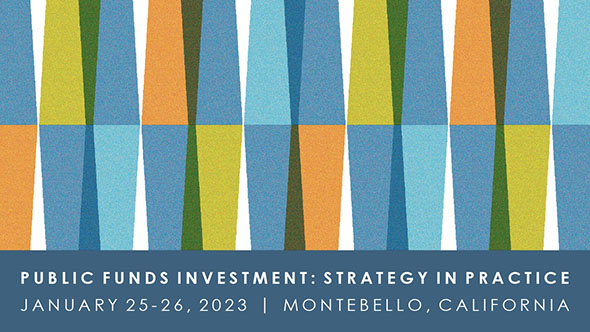 Public Funds Investment: Strategy in Practice
January 25-26, 2023
Quiet Cannon Conference & Event Center
Montebello, CA
Register on the CMTA Event Webpage | Agenda
This interactive workshop provides attendees the opportunity to participate in the application of concepts and strategies explored in the Public Funds Investment Essentials webinar series. Through activities and discussion, the program will build from fundamental concepts and operational considerations to strategic portfolio management theory and practice.
Workshop Information
Registration
Registration for Public Funds Investment: Strategy in Practice is available through the CMTA event webpage.
Venue
Quiet Cannon Conference & Event Center
901 Via San Clemente, Montebello, CA 90640
Lodging
A room block is available at the Hilton Garden Inn Los Angeles Montebello. Hotel details are available on CMTA event webpage.
COVID-19 Policies
Please note CDIAC is following all health and safety rules of Los Angeles County. Attendees are expected to follow these rules while participating in this event. Please see the Los Angeles County COVID-19 Prevention in Public Settings for the current guidelines.
Certificates & Continuing Education Credits
Certificates of Attendance will be issued within 2 weeks after the program. Participants can submit their certificates to their governing entity to request credits. CDIAC's education programs are accepted by many governing entities as certifiable.
Workshop Resources
Public Funds Investing Resources
CDIAC Investment Publications
Highlighted CDIAC investment publications most applicable to the Public Funds Investing Essentials courses are listed below. A full library of publications back to 2000 are available in CDIAC's Publication Database.
Archives of CDIAC's Investment Education
Contact
If you have questions about this program, please contact CDIAC at: CDIACEducation@treasurer.ca.gov