California's Jobs Market Improves Further
By Lynn Reaser, Ph.D., CBE
California posted another sizable job gain in March with the state's nonfarm employers adding 19,000 new jobs, on top of the 21,000 added in the prior month. The state also hit another milestone in March, as its unemployment rate dropped below 5.0% for the first time since December 2006. Although more people entered the workforce during the month, even more found jobs.
The performance across industries in March did vary significantly. Construction added a large number of jobs, followed by government, particularly in education. Even manufacturers contributed to the advance. Motion pictures represented one of the industries cutting back hiring in March and there was also an unusual loss of jobs in the technical services area involving scientific research and programming. Month-to-month changes can be volatile and subject to seasonal factors.
Year-over-year job growth for the state equaled 2.1% versus a national gain of 1.5%. Mining represented the only major sector showing a major loss. Manufacturing employment was down by a modest 0.5%. The overall state has now outperformed the nation in terms of year-over-year job growth for 61 consecutive months.
With respect to regional performance, 27 of the state's 29 metropolitan areas have now fully recovered job losses incurred during the Great Recession of 2007-09. These areas represent 99.3% of the total, leaving only Redding and Hanford behind. (See Figure 1.) Redding should join the "recovery club" later this year if its job growth continues. It appears that the Hanford-Corcoran area will take much longer.
This year has seen an interesting shift in job growth between some of the key areas in Northern and Southern California. (Figure 2) January saw a monthly job loss in the Northern California tech area comprising Santa Clara County, San Francisco, and Oakland. In contrast, the Southern California coastal area, including Los Angeles, Orange, and San Diego Counties, which also rely on technology jobs, continued to advance. The last two months have witnessed a significant swing. Northern California switched to a small job gain that widened substantially in March. Southern California has experienced a growing job loss in the last two months. Both regions are likely to expand in coming months as technology-dependent industries advance, but this will be an important development to monitor.
Figure 1 - Recovery Retains Momentum — Percent changes in jobs from pre-recession peaks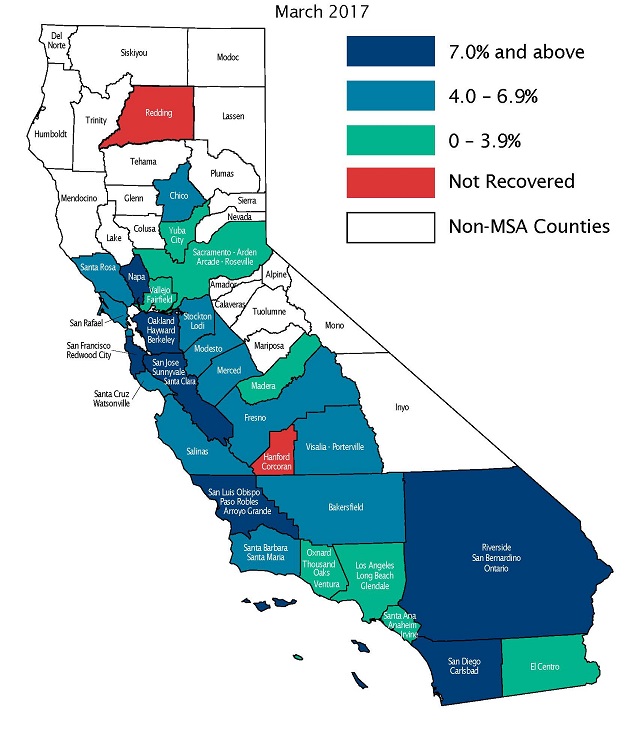 See raw data: Employment numbers by region.

Source: FBEI, EDD
Figure 2 - Growth Pivots from South to North — Nonfarm jobs seasonally adjusted, change from prior month, thousands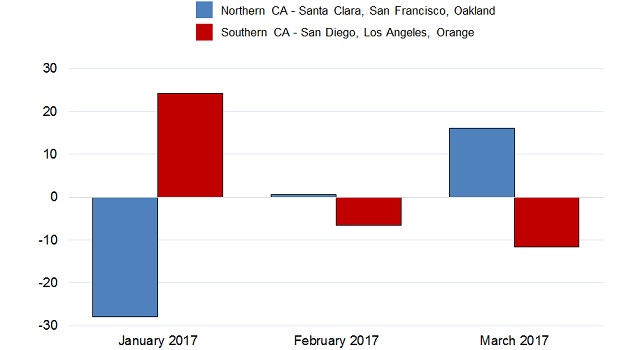 Lynn Reaser is chair of the Treasurer's Council of Economic Advisors and chief economist at the Fermanian Business and Economic Institute for Point Loma Nazarene University. The opinions in this article are presented in the spirit of spurring discussion and reflect those of the author and not necessarily the Treasurer, his office or the State of California.