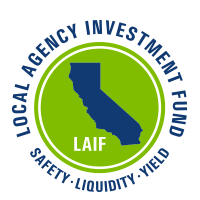 Local Agency Investment Fund (LAIF)
This program offers local agencies the opportunity to participate in a major portfolio, which invests hundreds of millions of dollars, using the investment expertise of the State Treasurer's Office investment staff at no additional cost to the taxpayer.
Click here to read about the
New Emergency LAIF Accounts — COVID Relief Funds
Notice Update:
In light of COVID-19, the Local Agency Investment Fund (LAIF) Staff began teleworking in March 2020. We are pleased to inform you that we now have a Teleworking LAIF Main Line and we will gradually discontinue using the emergency remote lines. As always, you can also contact LAIF via email, LAIF@treasurer.ca.gov.
Teleworking Main Line:
(916) 306-8260
Alternatively, you may complete transactions using LAIF Online. If you would like to sign up for LAIF Online, please follow the directions below.
LAIF Online
LAIF Participants may begin the process for LAIF Online registration by emailing LAIFuserID@treasurer.ca.gov and requesting their unique Authorized User ID. Once you have your Authorized User ID, you may register here and immediately begin using LAIF Online.
LAIF office hours will remain the same, Monday – Friday, 7:30 am to 4:00 pm. LAIF Online continues to be available Monday – Friday, 7:00 am – 7:00 pm.
Transactions completed by 10:00 am will be processed the same day. Transactions completed after 10:00 a.m. will be processed the next business day. Transactions may be scheduled as far as 10 days in advance.
We appreciate your patience and understanding.

LAIF Online is now available for all participants. View the User Help Guide to get started.
Highlights
Contact Information
Fiona Ma, CPA
State Treasurer and Chair
Jeff Wurm
Director of Investments
(916) 653-3147

Vacant
Assistant Director of Investments

Lily Osorio
LAIF Administrator
Office Hours 7:30 AM to 4:00 PM
Phone: (916) 653-3001
Fax: (916) 589-2840
State Treasurer's Office
Local Agency Investment Fund
915 Capitol Mall, Room 106
Sacramento, CA 95814
P.O. Box 942809
Sacramento, CA 94209-0001
Please Note:
If you are unable to reach LAIF during regular business hours, please use the emergency phone numbers.

Emergency lines will be activated ONLY in case of emergency and WILL NOT be answered when regular LAIF lines are operational.
LAIF Emergency Numbers
(916) 539-0273
(916) 539-0275
(916) 539-0276
(916) 708-2649
Additional Investment Information
Pooled Money Investment Account (PMIA)

Time Deposit Program

Information for Participants
Historical Rates and Fees
Performance and Reporting Documents
Emergency LAIF accounts are open to any local agency meeting LAIF Participant requirements and individual Emergency Account program requirements.
LAIF STATISTICS AS OF 04/30/23
2,362 Agencies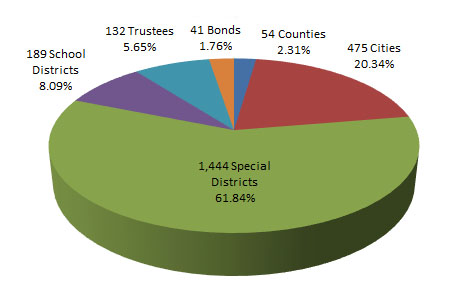 LAIF Balance by Type as of 04/30/2023
Total $27.0 billion
(chart dollars in millions)