Residential Energy Efficiency Loan Assistance Program
Helping Californians make their homes more efficient and comfortable

Energy Efficiency Loans for California Homeowners and Tenants
The Residential Energy Efficiency Loan (REEL) Assistance Program is designed to help Californians save energy at home by making attractive financing more widely available for home energy efficiency improvements. REEL offers a credit enhancement to mitigate the risk of default, which enables participating lenders to offer lower rates,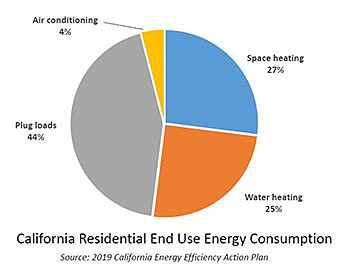 longer payback terms, and higher loan amounts, and to approve a broader base of borrowers for energy efficiency loans. Customers may upgrade a single-family home, townhome, condo, duplex, triplex, fourplex or manufactured home.
Of California's 10 million single-family housing units, about 65% were built before statewide energy efficiency standards took effect in 1978. Policymakers view energy efficiency improvements to single-family residences – which account for 18% of the state's energy use – as an important source of energy savings. More than half the energy used by this segment is for heating water and spaces.
REEL launched as a pilot program in July 2016. Following an evaluation of the two-year pilot phase, the California Public Utilities Commission approved REEL's transition into a full program in April 2020. Key metrics from program inception through Q4 2020 are found below.
REEL Program Activity through December 31, 2020
Total Amount Financed
$17,582,051
Average Loan Amount
$16,603
Loans for Properties in LMI Census Tracts
603 (57%)
For detailed information on REEL program activity, visit the CHEEF Reports and Additional Materials page.
*LMI = Low-to-Moderate Income, or < 120% Area Median Income for metropolitan area, county or state
Who Benefits And How?
REEL is available to owners and tenants of single-family houses, townhomes, condominiums, mobile homes and multiplexes of up to four units where an investor-owned utility (PG&E, SCE, SCG and/or SDG&E) provides (or a Community Choice Aggregator procures) energy.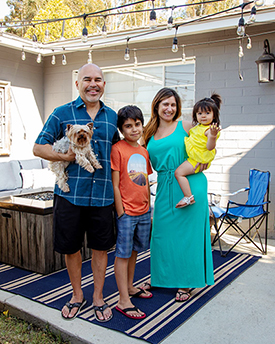 Through REEL, homeowners and renters can access more affordable loans for energy upgrades such as efficient HVAC systems, heat pumps, cool roofs, appliances, insulation and new windows. Borrowers can also use REEL financing for limited non-energy improvements like landscaping and remodeling.
Among the hundreds of California households to benefit from REEL is the Flores family, pictured on this page. The Floreses financed multiple energy efficiency upgrades for their home, including a tankless water heater and a new furnace, and kept their payments affordable through the REEL program. Learn more about their REEL experience on the program's customer-facing website, GoGreenFinancing.com.
REEL Finance Companies
CAEATFA works with finance companies to provide REEL customers with attractive financing options. The REEL Approved Lenders chart lists up-to-date rates and terms for REEL loans. The Apply for Financing tool on GoGreenFinancing.com provides information on lender offerings in a user-friendly format.
Finance companies that are interested in partnering with REEL should visit the Finance companies page on GoGreenFinancing.com or contact the REEL Program team at cheef@treasurer.ca.gov.
REEL Contractors
All REEL projects must be completed by an enrolled REEL contractor. Current contractor listings, updated weekly, may be found through the Find a Contractor tool on GoGreenFinancing.com.
Contractors who are interested in partnering with REEL should visit the Contractor Resources page or contact the Contractor Support Team at gogreen@frontierenergy.com.
Regulations
Visit the REEL regulations webpage to view the current regulations.
Learn more
Find more information about REEL at GoGreenFinancing.com, the Hub's consumer-facing website.