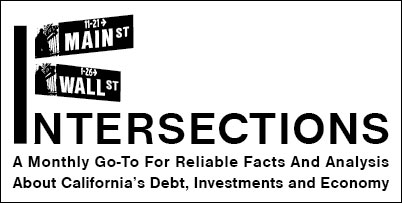 Vol. 1, No. 6, Published October 1, 2015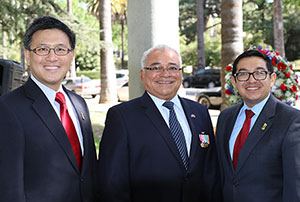 Treasurer John Chiang visits with Assemblymember Rocky Chavez and Councilmember Eric Guerra at a ceremony honoring the contributions of Latino veterans.
In Case You Missed It

Just in case you missed it, here's a summary of recent news from the Treasurer's Office:
September 30: Treasurer Sells $548.2 Million of State Public Works Board (SPWB) Bonds
Treasurer John Chiang announced that the State Public Works Board of the State of California (SPWB) sold $548.2 million of Lease Revenue Refunding Bonds, saving taxpayers nearly $122 million over time. Read the news release.
September 23: Treasurer Calls For Renewal of Low Carbon Fuel Standard
Treasurer John Chiang spoke out in favor of California's low carbon fuel standard ahead of its re-adoption by the California Air Resources Board. Read his column.
September 22: Treasurer Takes Part in Secure Choice Listening Tour
Treasurer John Chiang took part in a discussion with Bakersfield business leaders about the California's Secure Choice Retirement Savings Program. A Treasurer's Office board is developing design recommendations for the Secure Choice program, which will be presented to the Legislature next year. If passed, the program would automatically cover all California workers without access to an employer-sponsored plan. Read more about Secure Choice.
September 15: Treasurer Honors Contributions of Latino Vets
Treasurer John Chiang spoke at a ceremony acknowledging Latino contributions to the military. The event, which was held at El Soldado monument in Sacramento, coincided with Hispanic Heritage Month.
September 10: Treasurer Leads Discussion on Increasing Corporate Board Diversity
Treasurer John Chiang led a panel discussion on the need to increase corporate board diversity. The event took place during the CalPERS Diversity Forum in Sacramento. Watch video of the discussion.
September 9: Treasurer Visits California ISO
Treasurer John Chiang and members of his California Alternative Energy and Advanced Transportation Financing Authority toured California Independent System Operator headquarters in Folsom.
Top News Clips: