April 2019 Articles
Connect With Us




Subscribe to Newsletter
---
Heart of the Treasury
April 2019
Meet the people in the State Treasurer's Office whose public service inspires us and is making a difference.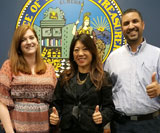 Meet Ashley Peters, our April employee of the month! A contract analyst in the Business Services Unit of the State Treasurer's Office (STO), Ashley began working for us in October 2012 as an office assistant in the administration division.
She currently assists the Treasurer and more than one dozen boards, commissions and authorities (BCAs) in navigating the state's contracting processes. Colleagues know her for her patience, humility, creativity, and an infectious smile.
The CalSavers team – currently busily rolling out a powerful new retirement savings program for millions of private-sector workers – praises her for providing expert guidance that proved vital to the implementation of the new program.
The retirement savings program faced challenging and unique contracting needs with aggressive deadlines, recalls one CalSavers team member.
"When we originally wanted to go out for a translation services contract, we were developing a full, traditional RFP (Request for Proposals)," he said.  "After talking it over with Ashley, she recommended the small business route, which was a new process for staff here.  Her input and guidance made it easy to learn the process -- and we ended up with great bids to choose from."
Ashley is a tremendous resource and serves an integral role within the contracting unit where she keeps all of the office's BCA contracts up-to-date. Her unit handles about 25 solicitations and 125 contracts each year.
Congrats Ashley!