Half-Year Highlights 2019 Articles
Connect With Us




Subscribe to Newsletter
---
Half-Year Highlights 2019 Overview
January - June 2019
Fiona Ma is California's 34th State Treasurer. She was elected on November 6, 2018 with more votes (7,825,587) than any other candidate for Treasurer in the state's history. She is the first woman of color and the first woman Certified Public Accountant (CPA) elected to the position. Treasurer Ma's administration began with her official swearing in on January 7, 2019.
The STO provides transparency and oversight for its investment portfolio, which was over $105 billion as of June 30, 2019. Treasurer Ma also manages the state's outstanding debt, which was more than $100 billion as of June 30, 2019.
The Treasurer's primary initiatives are jobs, housing, finance, and the environment. She has sponsored 21 legislative bills and supported 25 more that address these initiatives and others related to the boards, commissions, and authorities she chairs. The vast majority of these bills have made their way through their houses of origin.
During her first six months, Treasurer Ma and her team hosted 20 public outreach events throughout the state. Realizing that doing business with government can be challenging to newcomers, she created the STO's first-ever external affairs team to bring state resources to communities. Rather than expect people who need assistance to navigate complex websites or figure out which phone number to call, her external affairs team goes out to communities to educate, communicate, and be available for questions and answers. So far, the STO has held 15 housing meetings, four small business workshops, and one financial literacy workshop. Also, the STO's newly created Constituent Affairs Office quickly tracks down answers and responds to public inquiries.
Another important yet subtle accomplishment made early in Treasurer Ma's administration was the implementation of eight "Ma Squad" core principles. These convey the Treasurer's expectations for STO employees and help cultivate collegiality, leadership, and accountability to ensure the STO is comprised of public servants who serve all Californians efficiently, honestly, and transparently. These core principles clearly communicate that our customers come first – you can take that to the bank! Transparency in how the STO conducts business ranks high among these principles and has guided our approach to composing this progress report.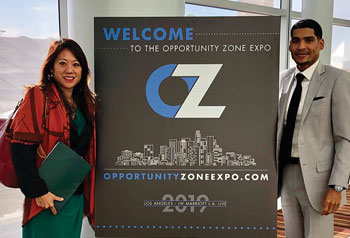 With Deputy Treasurer of Housing and Economic Development Jovan Agee, attending the Opportunity Zone Expo in Los Angeles.
Since January, Treasurer Ma has been featured at many Opportunity Zone conferences. She has been working closely with the Governor's Office of Business and Economic Development (Go-Biz) in implementing federal conformity legislation to maximize this economic tool in California. Opportunity Zones were established by Congress with the Tax Cuts and Jobs Act of 2017 in order to encourage long-term investments in low-income urban and rural communities. Opportunity Zones provide a tax incentive for investors to re-invest profits in tax-advantaged, dedicated opportunity funds that use this private capital to then make investments in businesses and real estate in Opportunity Zones that have been identified by the federal government. California has 879 Opportunity Zones and the Treasurer is committed to exploring ways to create an equitable path toward investment in California's Opportunity Zone process.
In February, Treasurer Ma testified before the U.S. House Subcommittee on Consumer Protection and Financial Institutions to urge federal lawmakers to enact safe harbor legislation aimed at encouraging more banks and credit unions to accept legal, state-licensed, cannabis businesses as customers. California has considered creating its own public bank and authorizing a closed loop banking system as alternatives to the cash dominated cannabis market that exists today.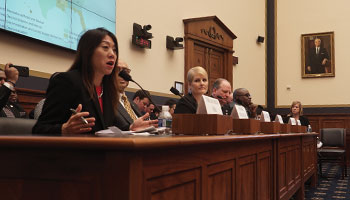 Testifying before the U.S. House Subcommittee on Consumer Protection and Financial Institutions about providing banking services to the cannabis industry in February.
"Having a safe harbor for banks is probably the most expeditious way of getting more folks out of the illicit markets," Treasurer Ma told members of the Subcommittee.
In March, the California Debt And Investment Advisory Commission (CDIAC) released a new pilot training video for local elected officials titled "What you Need to Know Before Issuing Debt." This will eventually be part of a nine-module training curriculum on debt issuance and administration.
In April, CDIAC published an updated user-friendly and interactive version of the California Debt Financing Guide known commonly as the "Bible" for local investment professionals, public finance officers, policy makers, and members of the public when issuing debt to finance public projects.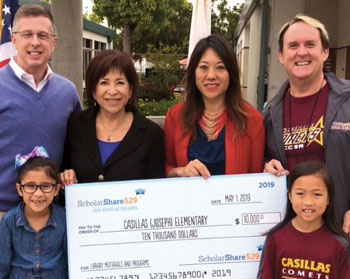 Delivering $10,000 to Joseph Casillas Elementary in Chula Vista—marking 20 schools visited and $305,000 provided for extracurricular enrichment.
In May and June, Treasurer Ma visited 20 different schools across the state and delivered $305,000 in awards from ScholarShare 529's "Scholar Dollars" program. The schools plan to use their awards to support extracurricular and enrichment programs focused on technology, music, art, libraries, computer science, and sports. A total of 377 California K-8 public and charter schools applied for the awards.
Also in June, Treasurer Ma created a registry for women looking to serve on the boards of publicly held corporations in an effort to bring more gender equality to the workplace. SB 826 (Jackson/Atkins) requires that, by the end of 2019, all domestic or foreign corporations that are publicly held and have principal executive offices located in California must have at least one female on their Board of Directors. Currently, 25 percent of public companies in California have no women on their boards, so there is still a long way to go to bring gender equity to our corporate boards. This legislative effort is a start toward shattering that glass ceiling.
To best present the accomplishments of the California State Treasurer's Office during the first six months of Treasurer Ma's administration, we have divided the rest of our progress report into the following four action areas: