April 2020 Articles
Connect With Us




Subscribe to Newsletter
---
Heart of the Treasury
April 2020
People in the State Treasurer's Office Whose Service is Inspiring Us and Making a Difference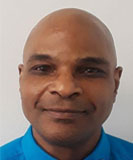 Meet Spencer Walker, our new General Counsel.
A senior attorney with 25-years of experience, Spencer replaces Mark Paxson who retired last month. Spencer has been working in the State Treasurer's Office (STO) since March 2019.
"Spencer is passionate about serving the public and is an experienced civil servant who will help me protect taxpayers' money and interests," said Treasurer Fiona Ma as she announced the move.
Prior to coming to the STO, Spencer was an Attorney III for the Department of Consumer Affairs (DCA). He also served as the Senior Advisor to the Director of DCA (appointed by former Gov. Arnold Schwarzenegger).
Additionally, he has served as the Vice President of Legal Affairs and Chief Corporate Counsel for Azteca Construction, Inc., as well as held the position of Deputy Attorney General representing the California Department of Corrections (now known as California Department of Corrections and Rehabilitation), Board of Prison Terms, and the Governor's Office. He also served as an attorney in private practice.
Spencer earned his Juris Doctor Degree from the California Pacific School of Law.
Congratulations, Spencer, on your new role.