April 2020 Articles
Connect With Us




Subscribe to Newsletter
---
Letter from Treasurer Ma
April 2020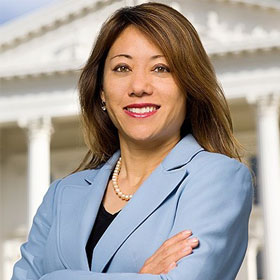 Friends,
This is a challenging time. Dramatic changes are affecting all of our lives and families. It is also proving to be a time that showcases the strength of California. Californians everywhere are demonstrating their personal commitment to doing the most good for the greatest number of people every day. I have been and continue to be inspired by how we are all rising together to meet the challenge of the moment.
My office has additionally responded by creating informational resource lists on tax relief here, food access here, help for individuals here, and help to small businesses here.
The coronavirus pandemic has introduced, or reintroduced, many people to the concept of an exponential curve, which describes the way in which a quantity grows at an increasing rate over time. We see this in the number of people contracting the COVID-19 virus. It is this curve that so many of us are trying to "flatten" through social distancing and other mitigating measures.
If there's any silver lining in this mess, it's that the pandemic can teach us a valuable lesson in the peril of ignoring such destructive processes. Climate change, another global threat, also increases exponentially. Even if growth looks mild in the moment, it will soon enough be severe. Delay is the enemy.
This month's newsletter is about the ways my office is addressing climate change through green financing and other programs. I hope you enjoy it. Be well and stay safe.
In Peace & Friendship,
Fiona
California State Treasurer