May 2020 Articles
Connect With Us




Subscribe to Newsletter
---
Top Billing
May 2020
A monthly update on key legislation for Treasurer Ma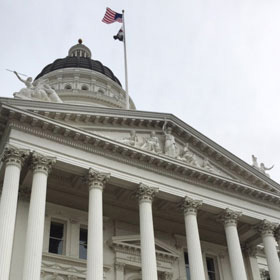 Cannabis Taxes
Assembly Bill 1948, Rob Bonta (D-Alameda)
http://asmdc.org/members/a18/
Would create a short-term tax reduction for licensed cannabis businesses and consumers by temporarily lowering California's cannabis excise tax from 15 percent to 11 percent, and suspending the cultivation tax altogether, for the next three years.
---
Deposit Requirement Reduction
Senate Bill 877, Senate Committee on Banking and Financial Institutions
https://sbnk.senate.ca.gov/
Would codify California statute to lower the collateral requirements, from 110 percent of the amount deposited to 100 percent of the amount deposited – the required value of a Federal Home Loan Bank (FHLB) letter of credit that a credit union or a savings and loan association may use as security, matching the collateral requirements banks currently have – for a deposit of state funds made by the State Treasurer.
---
JUMP Act
Senate Bill 1210, Steven Bradford (D-Gardena)
http://sd35.senate.ca.gov/
Would incentivize private investment in small businesses in distressed areas, including all 879 designated opportunity zones.
---
CEFA Act Modernization
Assembly Bill 2484, Evan Low (D-Campbell)
http://asmdc.org/members/a28/
Would modernize the California Educational Facilities Financing Authority Act (Act) as it pertains to the use of its conduit bond financing authority to finance projects for nonprofit entities for the benefit of a public or private university or college.
---
Development Tax Credit Program
Assembly Bill 2922, Adam Gray (D-Merced)
http://asmdc.org/members/a21/
Would provide additional Low-income Housing Tax Credits for private investment in housing, job creation, community facilities and neighborhood revitalization through community development corporations and other community-based organizations.
---
Housing Loan Fund
Assembly Bill 2834, Mike Gipson (D-Carson)
http://asmdc.org/members/a64/
Would provide effective funding through a revolving loan fund to stimulate housing, giving homeless, reentry, and transition aged youth service providers the ability to secure property to provide comprehensive services for target populations and needed housing for transition age youth/former foster system youth.