May 2020 Articles
Connect With Us




Subscribe to Newsletter
---
ABCs of the BCAs
May 2020
California Debt Limit Allocation Committee (CDLAC)
ALL ABOARD!
The California Debt Limit Allocation Committee (CDLAC) Approves Bonds for Virgin Trains USA High-Speed Electric Rail Project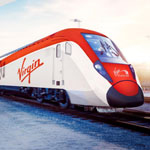 The California Debt Limit Allocation Committee (CDLAC) on April 15th approved $600 million of tax-exempt private activity bonds for XpressWest / Virgin Trains USA to help finance a ground-breaking high-speed electric passenger train that will, upon the projected completion of the project in late 2023, connect San Bernardino County and the High Desert to Las Vegas.
CDLAC was created to set California's annual debt ceiling and administer its tax-exempt bond program. Most of the debt ceiling is allocated to finance affordable housing developments for low-income Californians. The Virgin Trains USA economic plan includes a projected 3,490 units of housing. Bonds also are sold to finance solid waste disposal and waste recycling facilities, industrial developments, and other programs and projects.
Tax-exempt bonds issued on behalf of private businesses, including the bonds sold in support of Virgin's Las Vegas-Southern California train project, are known as qualified private activity bonds. The lower borrowing costs associated with such bonds help make funding for certain private-sector projects feasible.
Unlike municipal bonds, the payment of principal and interest on private activity bonds is the responsibility of the private business receiving the proceeds – not the state or local community. Thus, private activity bonds are a low-risk way for government to finance projects that provide public benefits and contribute to the economic vitality of California.
Before approving the bond issue, the CDLAC board chaired by State Treasurer Fiona Ma reviewed how the project stands to benefit the public and nourish the state's economic vitality.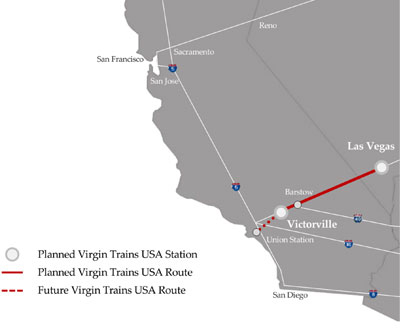 The Virgin Trains USA Plan for California
The Virgin Trains USA system planned for California goes beyond a track, train sets, and terminals. The high-speed rail system also promises new jobs, additional tax revenue, fresh development opportunities and environmental benefits.
Virgin estimates filling 600 post-construction jobs and generating 20,000 jobs during the construction phase. The project also is expected to bring in $360 million in federal, state and local taxes while giving a $2.66 billion economic boost to California's economy. In addition, the company also has assured the state there will be opportunities for women and people of color, as well as for individuals in distressed communities to take part in the project and share in the prosperity the train system generates.
Virgin officials say the long-term goal is for approximately 50 train departures per day and estimate that using electric trains will equate to the removal of 2.8 million cars and 100,000 metric tons of carbon emissions annually. This is an important consideration for California, which aims to slash climate changing greenhouse gas emissions another 40 percent by 2030.
The project promises to have a particularly positive impact on the Victor Valley region of San Bernardino County, which was hit hard by the Great Recession and was slower than other areas of the state to recover. According to research conducted by the UC Riverside Center for Economic Forecasting and Development, while robust growth returned average wages over the past five years have been rising more slowly that the rest of the state – 13.6 percent compared to 19.9 percent statewide. The jobs-to-new housing ratio for the county, a 5-to-1 ratio from 2012 through 2017, meanwhile indicates the extent of the regional housing shortfall the project will help address.
The Virgin Trains plan addresses this need. Plans call for 1,250 multi-family units in Victorville, 600 in Apple Valley, and an additional 1,690 "transit oriented" housing units elsewhere. Meanwhile, the new jobs created will benefit the local economy and include 100 high-skilled vehicle maintenance facility jobs that pay an average annual salary of $70,000.
The project's public benefits and economic infusion have garnered widespread attention throughout the region and beyond.
"This is a great infrastructure project," said Robbie Hunter, president of the State Building and Construction Trades Council. "We believe it's good for the state and good for the environment."
Apple Valley Town Council member Art Bishop sized up the project's impact saying, "This is the largest project the high desert has ever seen and may ever see."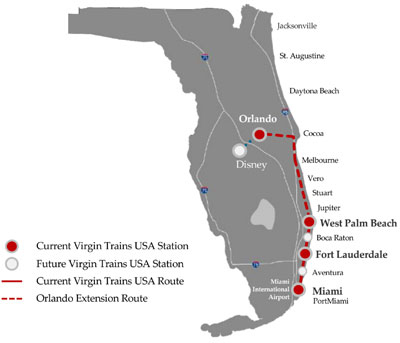 The Virgins USA Train System Already Operating in Florida
When Virgin Trains spokespersons talk about their plans for California, they often illustrate their vision by pointing to what they have already accomplished in Florida, where they established high-speed rail service between Miami and West Palm Beach in 2018.
Work is currently underway to create stops in Aventura and Boca Raton, even as the system is extended northward to Orlando.
Construction on the Miami-West Palm Beach phase began in late 2014 and was completed in late 2017. The company reports 90 percent "on-time performance" and total ridership of 597,000 passengers in its first year of operation. It also reports a high level of customer satisfaction.
State Treasurer Fiona Ma found that to be true when she went to Florida to get a firsthand experience of the train. She found the ride from West Palm Beach to Miami quick (about 60 minutes), stress free and pleasant.
"Think Virgin planes – and now there are Virgin trains," she said. A frequent rider "of all sorts of trains – Amtrak, Surfliner, BART, and MUNI," the Treasurer said she was impressed by how Virgin has "transformed the ho-hum passenger rail experience into one that's now cool and hip." The cars are clean and bright with free WiFi, lots of outlets, assigned seating, and a terminal waiting room similar to an airline club lounge in an airport passenger terminal."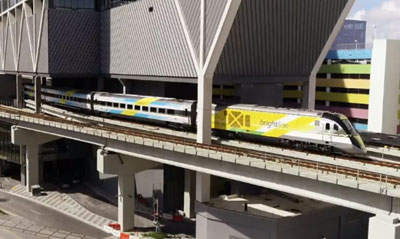 The Florida train system was known as Brightline until it partnered with Virgin in late 2018 and rebranded itself Virgin Trains USA. Above, a Brightline train arrives at Virgin's Miami Central station.
She also was struck by the collection of local businesses and food establishments at the main Miami station, as well as by the building activity involving transit-oriented developments and rental housing units within a short walk of the Florida train stations.
Virgin officials say the Virgin Trains USA Miami Central station has helped spur significant new construction in the area and attracted such tenants as Viacom, Cisneros, and Earnst & Young. At the same time, of course, it is serving a critical transportation need in the rapidly developing area.
The station in West Palm Beach has also triggered a sharp increase in nearby development. Already constructed or planned are thousands of residential units, including workforce developments, a million-square-feet of new office space, and 150,000-square-feet of retail space.
When the California and Florida systems are complete and ridership is "stabilized," Virgin, which calls itself "America's only private high-speed passenger rail system," expects to carry 22 million passengers annually.
Quick facts about the planned Virgin Trains USA high-speed electric train that will run between Southern California and Las Vegas
---
TICKET COST: Less than what it would cost to fly or drive.
TRAVEL TIME: 90 minutes (Victorville in San Bernardino County to Las Vegas)
DISTANCE: 170 miles (135 miles in California)
CONSTRUCTION: 2021-2022
TOTAL COST: About $5 billion
OPERATIONS PROJECTED TO BEGIN: 2023
FUTURE PLANS: Plan is to extend the line west from Victorville to Palmdale, which would allow connections with other transportation links to Los Angeles via Metrolink and California High Speed Rail systems.
…AND STILL MORE ACTION ON AFFORDABLE HOUSING
The CDLAC board, made up of the Treasurer, the State Controller, and the Governor, voted unanimously to accelerate the amount of bonds awarded for the development of affordable housing in the "new construction" category from $443 million to $800 million in the current funding round with the aim of closing more shovel-ready deals now versus waiting for future allocation rounds. The total amount approved in the current round was $1.5 billion in tax exempt private activity bonds. (California's total 2020 calendar year allocation for tax-exempt private activity bonds is $4,148,783,415.)
In a similar fashion, the California Tax Credit Allocation Committee (CTCAC) board, which includes Treasurer Ma, the State Controller, the Director of Finance, the executive director of the California Housing Finance Agency (CalHFA), and the acting director of the California Department of Housing and Community Development (HCD) voted unanimously to accelerate its award of state tax credits by $44 million and awarded $110 million in annual federal tax credits and $253 million in state tax credits to help finance 5,954 low-income units.
The projects approved by CDLAC and CTCAC are located in every corner of the state. You can view a list of them here. They will provide comfortable, safe homes for thousands of working families, seniors, veterans and those with special needs.
"We were in an affordable housing crisis before the COVID-19 pandemic, and COVID-19's effect on the economy will further exacerbate the problem," said CTCAC and CDLAC Executive Director Judith Blackwell. "Thus, now is the time to push out shovel-ready projects with guaranteed financing."

Treasurer Ma, Deputy Treasurer Jovan Agee, and staff pose during a September 10, 2019 meeting with some of the locally elected officials representing High Desert communities that share an economic interest in the Virgin Trains USA project, including Victorville Mayor Gloria Garcia, Victorville Councilmember Art Bishop, Apple Valley City Manager Doug Robertson, Victorville City Manager Keith Metzler, Victorville Deputy City Manager Sophie Smith, San Bernardino County First District's Constituent Services Supervisor Susan Drake, Brightline Senior Vice President of Corporate Affairs Ben Porritt, and San Bernardino County Director of Government and Legislative Affairs Josh Candelaria.
What They're Saying About Virgin Trains USA...
"The City of Victorville supports the Virgin Trains project because we believe the influx of private investment will serve as a catalyst for overall economic growth in the area, which is also well-positioned for significant affordable housing growth… We serve as one of the most affordable housing options for those who work in the Orange County and Los Angeles County metropolitan areas. Victorville and the Victor Valley are definite equations in solving the state's affordability crisis."
— Sophie Smith, Deputy City Manager, City of Victorville
"Looking west beyond Victorville, I view Virgin Trains' … project as a critical first phase in an eventual Vegas-to-Los Angeles high speed rail service that has the potential to ultimately unlock blended and integrated service scenarios throughout the region."
— Kathryn Barger, Fifth District, Board of Supervisors County of Los Angeles
"I wholeheartedly believe that Virgin Trains USA's plan to build a much needed intercity passenger rail connection between Southern California and Nevada would be crucial to our region."
— Jay Obernolte, Assemblyman, 33rd District
"Government alone cannot fund the infrastructure needed to meet the growing demand placed on California's transportation system by residents, visitors and businesses. Private infrastructure investment should be encouraged."
— Kiana L. Valentine, Executive Director, Transportation California
"…construction on a brand new passenger rail line between California and Nevada will help alleviate congestion along a heavily used corridor, reduce greenhouse gas emissions, and send a positive signal to investors that the state welcomes participation in the development of transportation infrastructure."
— Eric Garcetti, Mayor of Los Angeles
"The privately funded intercity rail system planned by Virgin Trains USA will improve mobility in California, remove cars from congested highways, reduce harmful carbon emissions, create thousands of jobs, spur transit-oriented development, and connect residents of the Victor Valley region to housing and employment opportunities."
— Peter Tateishi, CEO, Associated General Contractors of California, Inc.
"…Virgin Trains USA will finally bring to fruition a project that will significantly improve mobility in Southern California, connect people in the Victor Valley to jobs, take cars off one of the state's most congested interstate highways, and help meet the state's carbon reduction/climate change goals."
— Karen J. Hedlund, former Deputy Administrator of the Federal Railroad Administration and an advisor to the High Desert
"The bonds requested are backed by private investors, with no risk to California taxpayers; yet the benefit to the public is substantial."
— Senator Scott Wilk, 21st Senate District
"This privately funded project will serve to meet the increasing demand on transportation by Southern California residents. Our region in particular will benefit from decreased congestion and increased transportation options along this important transit corridor."
— San Bernardino County Board of Supervisors Chairman Curt Hagman
MORE BCA NEWS
ScholarShare 529 – 529 College Savings Day $50 Match Promotion
As National 529 College Savings Day approaches on May 29th, Treasurer Ma and ScholarShare 529 are excited to offer families the opportunity to kick-start their college savings by participating in a special limited time promotion. ScholarShare 529 will offer a $50 match to families opening a new account from May 26-31, 2020. To be eligible, families open a new ScholarShare 529 account with $50 or more and set up a monthly recurring contribution of $25 or more for a minimum of six consecutive months – and ScholarShare will add $50 to the account.
Families can register for free online webinars at 11 a.m. on May 13, or 11 a.m. on May 27, by visiting www.ScholarShare529.com/529Day where there is more information about ScholarShare 529 and this special promotion.
ScholarShare 529, California's 529 college savings plan, is a tax-advantaged way to save, offering families a diverse set of low cost investment options and tax-deferred growth and withdrawals free from state and federal taxes when funds are used for qualified higher education expenses. Those expenses include such things as tuition and fees, computer equipment, books, and certain room and board costs.
Additional information about ScholarShare 529 and the upcoming $50 529 Day match promotion, including complete terms and conditions, can be found at www.ScholarShare529.com/529Day.
---
Note: Each month we will be sharing information on one of our BCAs and explain how the programs behind the acronym are enhancing the lives of Californians all across the state -- and how you, your family, or your business can share in, and contribute to, California's prosperity.