August 2019 Articles
Connect With Us




Subscribe to Newsletter
---
Letter from Treasurer Ma
August 2019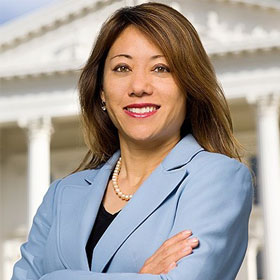 Dear friends,
Climate change threatens our quality of life, our economy, and poses material risk to our communities. Massive hurricanes, raging wildfires, bomb cyclones, and other weather catastrophes that were previously considered once-in-a-lifetime events are now occurring at an alarming rate.
The devastating effects of climate change on our communities are dramatic. Here in California, we have witnessed the historic devastation and loss of life in the Paradise fire—the intensity of which was enhanced by climate change—less than one year ago.
Apart from slowing or reversing the warming of the planet, communities around the world must upgrade their fixed assets to make them more adaptable to these types of environmental shocks.
A recent article by the Federal Reserve Bank of San Francisco states that climate change poses a real threat to our economy. In a more foreboding vein, another recent report by the Urban Land Institute claims that using insurance as a mitigation strategy against loss of value is simply not sustainable in the long term.
Still other reports identify tens of billions of dollars in infrastructure needs in California and most agree that new infrastructure must be resilient, adaptable, and respond to the threat of climate change.
My office offers a range of financial incentives, tax savings, funding mechanisms, and investments designed to spur energy efficiency, reign in pollution, decrease our reliance on the carbon economy of the past century and create the green infrastructure we need for a sustainable future.
In this newsletter we cover everything from low-cost funding for new energy saving equipment for homeowners to financing that is available to support business owners who want to install electric vehicle charging stations – and much more.
Also in this newsletter you will find updates on the July 1, 2019 launch of a new program that helps employers and workers save for retirement – called CalSavers – and information about developing a statewide master plan for aging. My office has also produced a progress report for our first six months in office. You can find the report here.
In Peace & Friendship,
Fiona
California State Treasurer