July 2019 Articles
Connect With Us




Subscribe to Newsletter
---
Helping Working Californians Save for Their Retirement Years
July 2019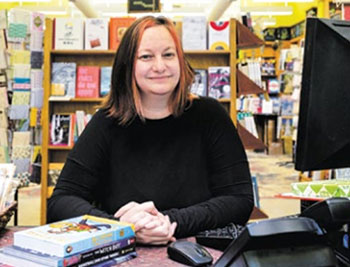 Christin Evans, co-owner of The Booksmith in San Francisco is a participating employer in CalSavers.
Younger workers can become so focused on finding affordable housing, paying off student loans, and advancing their careers that they delay retirement planning. They might not even notice when they are not offered a retirement savings plan at work.
California is changing that with CalSavers.
And it's not only for millennials. It's for California workers of all ages who wish to save money for retirement. As of July 1, 2019 any eligible employer can join the program.
Poised to become the largest state-administered retirement program for private sector workers in the nation, CalSavers aims to ensure that nearly all working Californians have a way to save for retirement through their workplace.
With CalSavers California is establishing itself as a national leader in a growing movement to address the retirement savings crisis nationwide. Oregon and Illinois operate similar programs and many other states and cities are following suit.
The state law enacting CalSavers requires employers to either sponsor a private market retirement plan or participate in CalSavers. Eligible employers with more than 100 employees will be required to comply by June 30, 2020. Eventually, all employers without employee retirement savings plans and who have five or more employees will be required to participate. Registration deadlines will vary based on the size of the business.
CalSavers is easy for employers and workers to set up. There are no fees for employers, it has low fees for savers, and it operates at zero cost to taxpayers.
Here's how CalSavers works:
Employers register their business and upload employee information to the CalSavers website to facilitate automatic employee enrollment and contributions. (If a business has a payroll company, it may designate the payroll vendor to handle these steps.)
Unless a worker designates some other amount, 5 percent of their pay will be contributed to a Roth IRA, with a periodic 1 percent automatic escalation until it reaches 8 percent Employees can choose their own contribution rate, opt out of automatic escalation, or opt out of the program entirely at any time.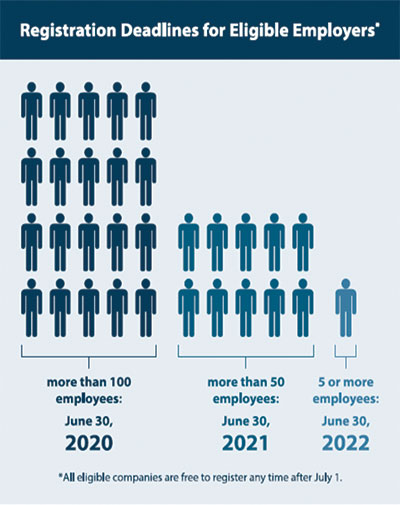 Unless the worker chooses an investment option, a default option puts the first $1,000 saved into a money market fund and subsequent contributions into a Target Date Fund selected based on the worker's age in which the mix of investments automatically adjusts as they approach retirement age. Workers can choose investments from a menu of options designed to make investment choices simple, including a fund focused on environmental and social responsibility.
Gig economy workers (the independent and self-employed) may also join CalSavers when the feature is made available later this year. The program is overseen by a nine-member board chaired by State Treasurer Fiona Ma.
Katie Selenski, executive director of CalSavers, said the program gives workers a nudge to start saving now for their retirement years.
"All the research shows that having access to a workplace retirement savings program makes a huge difference in whether employees save for retirement, especially if it includes automatic enrollment" she explained.
Research shows that workers with payroll deduction savings plans are 15 times more likely to save for retirement. They are 20 times more likely to save when enrollment in a plan is automatic.
The program was created through Senate Bill 1234, authored by former Senate President Pro Tempore Kevin de León in 2012. De Leon was inspired by an aunt who cleaned houses six days a week for 50 years. She had no retirement savings, he said, beyond a modest social security check.
Far too many Californians are in similar circumstances. Of those without access to a workplace retirement plan, 58 percent are women and 66 percent work for small businesses. About two-thirds of millennials aged 22 to 37 have saved nothing for retirement and 29 percent of households aged 55 or older also have no savings.
In addition to helping individuals, CalSavers is expected to save taxpayers money. If fewer senior citizens retire into poverty, fewer people will need additional government assistance.
By giving workers a simple and effective way to save for their retirement, CalSavers is helping to create a brighter and more secure future for California.
Note: Each month we will be sharing information on one of our BCAs and explain how the programs behind the acronym are enhancing the lives of Californians all across the state -- and how you, your family, or your business can share in, and contribute to, California's prosperity