March 2019 Articles
Connect With Us




Subscribe to Newsletter
---
Letter from Treasurer Ma
March 2019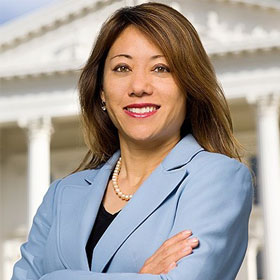 Dear Reader,
Virtually every day they serve in office, local elected officials across California find themselves grappling with new decisions, or the consequences of past decisions, involving local economic development and infrastructure investments.
Elected officials make decisions on how, why, when and to what extent a community takes on debt. These decisions, if made wisely, can enhance a community's quality of life and help it to prosper.
Decision makers make better decisions when they're better informed. It is not realistic to believe each newly elected member to a schoolboard, city council, special taxing district, or county government is going to arrive on the job with the deep financial expertise required to understand debt capacity and debt affordability, or to navigate financing options and market dynamics.
To address this, the California Debt and Investment Advisory Commission (CDIAC) is developing training materials for elected officials on the topic of debt issuance and administration. It has produced a pilot video that represents the form and function of additional modules that will be introduced later. As a part of the project, CDIAC has formed a steering committee composed of representatives of public finance professional organizations and cities, counties, school districts and special district finance staff. The role of the steering committee is two-fold. It provides CDIAC insight into the role and responsibilities of elected officials and it will also facilitate adoption of the video program by elected officials.
The online and on-demand educational courseware will provide an introduction to the principles, concepts, and processes required to issue and administer public debt. CDIAC plans to present the course materials through a custom-branded website that will be accessible, convenient, and capable of tracking an individual learner's registration, progress, knowledge gain, and certification of completion.
By 2021, we anticipate nine videos becoming available. To preview the look and feel of these videos, on March 28 I am releasing the pilot titled, "What You Need to Know Before Issuing Debt." It may be viewed here.
I am grateful for all the help we are receiving in developing this project. And I want to express my personal thanks to all the local agencies that are supporting this project, including the League of California Cities, California State Association of Counties, California Special Districts Association, California Association of School Business Officials, Community College League of California, California Society of Municipal Finance Officers, California Municipal Treasurers Association, California School Boards Association, Association of California School Administrators, California Charter Schools Association, California Municipal Utilities Association, Association of California Water Agencies, California Association of Sanitation Agencies, and the California Association of County Treasurers and Tax Collectors.
For more information on our Elected Officials Training video project, keep an eye on my social media channels and these monthly newsletters!
The launch of this first video, by the way, ushers in "National Financial Literacy Month" in April.
On another note... The month of March is "Women's History Month." So, I would like to take this moment to pay homage to all of the women in California – past, present and future – who dedicate their lives to creating a better world and enlarging our sense of what we can accomplish.
I am particularly proud of the women I know in public service – especially those working in the State Treasurer's Office, a group exemplified by Jennifer Nguyen, our March employee of the month. We appreciate the inspiring contributions of the women who came before us, recognizing that the work of these previous generations and our own are now combining in this current chapter of history we're writing together.
Please follow the State Treasurer's Office on Twitter at @CalTreasurer, and on Facebook at California State Treasurer's Office to get the most up to date news about the office.
In Peace and Friendship,
Fiona Ma, CPA
California State Treasurer