July 2020 Articles
Connect With Us




Subscribe to Newsletter
---
COVID-19 Case Study
July 2020
This Community's Creative Solution Forged New Links between Local Businesses and Customers during Shutdown
Communities across California have taken an economic hit in the wake of shelter-in-place orders made necessary by the spread of COVID-19. In high-profile moves, government policymakers immediately stepped in to support and provide relief to businesses large and small. Not as well-publicized are the creative steps taken by local business owners and economic development organizations. One such effort in Santa Cruz known as "Ride Out the Wave" could be a blueprint for other communities.
The volunteer-led undertaking began when Amazon employees and Santa Cruz natives Drew Meyer and Rex Harris approached Santa Cruz Works' Executive Director Doug Erickson with an idea to connect the public with local merchants during the pandemic. That led to the creation of an online platform promoting public gift card purchases to benefit local sellers. All transactions are facilitated by third parties. There are no processing fees. The platform simply and effectively serves to reconnect a local economy temporarily fragmented by the pandemic.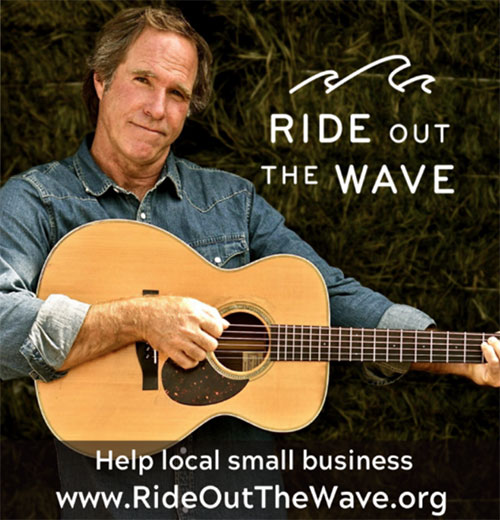 Musician Taylor Rae performed on Facebook live to promote the Santa Cruz effort to help local businesses and customers reconnect during the state's stay-at-home response to the novel coronavirus pandemic.
To supercharge their effort, Santa Cruz Works and partners generated buzz with the help of Facebook Live benefit concerts hosted by local artists Taylor Rae and Keith Greeninger. If these two events served as lightning rods, then the gas on the fire was the unplanned infusion of $55,000 in matching grant funds. The funding was made possible by Santa Cruz County's and the City of Santa Cruz 's economic development departments, as well as nonprofit and corporate partners, including the Community Foundation of Santa Cruz County, the Monterey Bay Economic Partnership, Amazon, and Looker Data Sciences Inc. While available, these funds provided consumers with an extra $25 gift card to complement initial purchases of $50 or more.
Ride Out the Wave was the work of nine volunteers who over 45 days generated a digital platform boasting more than 373 business listings. Utilizing the $55,000 in matching funds, the platform generated more than $432,000 in gift card transactions benefitting local merchants. More than 15,000 unique transactions were involved.
On a webinar to celebrate the effort, Doug Erickson described it as an inspiring process in which the "community took money out of their own pockets to put right back in the community through our small businesses."
While the matching funds have been depleted, the www.rideoutthewave.org platform remains active. Treasurer Ma encourages other regions across California to consider implementing similar efforts to support the state's recovery. For more information, please contact help@rideoutthewave.org.