Year-End Highlights 2019 Articles
Connect With Us




Subscribe to Newsletter
---
Jobs
2019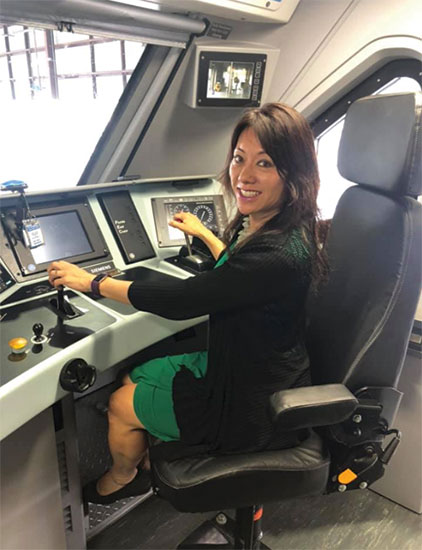 Getting familiar with a privately operated high- speed rail system serving South Florida. California and Nevada are supporting a similar high-speed rail system that would link Los Angeles and Las Vegas and could create 10,000 jobs. Some of the funding would come through the sale of tax-exempt private activity bonds approved by the California Debt Limit Allocation Committee (CDLAC) under the aegis of the State Treasurer's Office.
Private Activity, Tax-Exempt Bonds
In September, the California Debt Limit Allocation Committee (CDLAC) board, chaired by Treasurer Ma, approved a provisional private activity bond allocation of $300 million for Virgin Trains USA / XpressWest to finance a ground-breaking high-speed rail line that will connect Southern California to Las Vegas. Early projections estimate 10,000 construction jobs and more than 1,200 housing units.
Sales Tax Benefits for Manufacturers and Recyclers
The California Alternative Energy and Advanced Transportation Financing Authority (CAEATFA), chaired by Treasurer Ma, supports California's mission to provide financial incentives to cutting-edge companies by offering a sales and use tax exclusion to certain manufacturers to promote alternative energy and advanced transportation, advanced manufacturers, and recyclers. These manufacturers create high-paying, permanent jobs that bolster the state's economy. Here are a few examples of sales tax benefits before the annual $100 million sales tax exclusion award cap was reached in July:
CAEATFA approved up to $20 million in sales tax benefits to Edwards Lifesciences of Irvine to upgrade and expand a facility that makes devices to treat cardiovascular disease. The benefit is intended to support the retention and creation of 974 production jobs and 90 construction jobs.


Sioneer Stockton, LLC, received a $1.2 million sales tax benefit to purchase $15 million of equipment to expand its glass recycling facility. The facility will help retain 13 jobs and create 15 construction jobs. It will divert 63,600 tons of glass from landfills. The glass recycling technology used by Sioneer also reduces the carbon impact of cement when combined with pozzolan, a fine glass powder.


Entekra of Modesto received a $1.7 million sales tax benefit to purchase $20 million in equipment to build a new facility in Modesto for the production of 3,000 pre-engineered structural shells for residential buildings each year. It will help create and retain 218 full-time jobs, 50 construction jobs, and produce 30 percent less waste than the standard industry manufacturing process.


Allogene Therapeutics, Inc., a clinical stage biotechnology company, received a $3 million sales and use tax benefit to build a new allogeneic chimeric antigen receptors ("CAR") T cell manufacturing facility in Newark. Allogene is developing a pipeline of allogeneic CAR T (AlloCAR TTM) cell therapies with the goal of delivering readily available cell therapy on- demand, more reliably, and at greater scale to more patients with hematologic and refractory cancers.

The facility will support a total of 176 production-related jobs and 30 construction jobs. Additionally, Allogene represents that its new facility will conserve water usage by 97 percent relative to the industry standard manufacturing process.
The sales and use tax exclusion program is currently authorized through 2026.