Year-End Highlights 2019 Articles
Connect With Us




Subscribe to Newsletter
---
Letter from Treasurer Ma
2019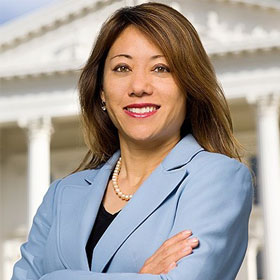 Dear Friends,
The second half of the year went by just as fast as the first six months. In this "Highlights" report, top-line achievements made by the State Treasurer's Office (STO) from July through December of 2019 are noted. Accomplishments for the first half of the year were reported at the end of June.
Pursuant to state law, the State Treasurer serves as agent for sale on all state bonds. From July to December 15, 2019, the STO sold $8.3 billion of bonds, including:
$4.23 billion of voter-approved general obligation bonds, including $1.74 billion for new projects and $2.49 billion of refunding bonds.


$596 million of revenue bonds for the Trustees of the California State University.


$500 million of revenue bonds issued by the California Health Facilities Financing Authority for the Department of Housing and Community Development's No Place Like Home Program.


$374.2 million of lease revenue bonds for the State Public Works Board.


$272.6 million of lease revenue bonds issued by the California Infrastructure and Economic Development Bank for the California State Teacher's Retirement System.


$2.33 billion of conduit revenue bonds issued by various state financing authorities, including those chaired by the State Treasurer.
The refunding of older, higher-interest General Obligation (GO) bonds in favor of today's lower interest rates will save taxpayers $883 million over the next 20 years, or $742.7 million on a present value basis. Also of note was the bond-rating upgrades from Fitch Ratings and Moody's Investor Investors Service in August and October. Fitch Ratings upgraded California's GO bond rating from "AA-" to "AA" and Moody's Investors Service upgraded the state's GO bonds to "Aa2" from "Aa3." In publicizing the rating change, Fitch cited, among other reasons, reductions in budgetary borrowings, and the continuing commitment to set aside funds for California's rainy day fund.
I want to thank you in advance for reading this latest update of STO activities. I am very proud of our successes in the first year of my administration. It is an honor and privilege to serve you -- #ILoveMyJob.
In Peace & Friendship,
Fiona
California State Treasurer