2020 Debt Issuance and Public Investment Webinars, Seminars and Conferences
Mello-Roos Community Facilities Districts Fundamentals Mini-Series
November 10, 2020 | November 17, 2020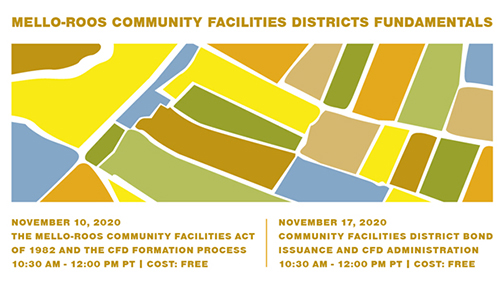 Community Facilities Districts (CFDs), or Mello-Roos Districts, have been used by public agencies since 1982 to finance public infrastructure and community facilities. CFDs may also fund public services, which has been a growing trend in recent years. Because this funding tool is used on the majority of new developments in California, it is imperative that public agency employees understand the fundamentals of CFDs and how they can be implemented to fund infrastructure and services.
* The complete program, including the replays, transcripts, and slides, is available in the CDIAC Education Portal. Registration required but program is free.
---
CDIAC Bond Buyer Pre-conference Informing the Investment Decision: Climate Change Disclosure in the Municipal Market
October 26, 2020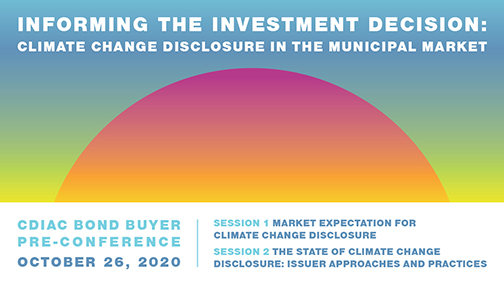 The municipal market has the expectation that issuers will give investors the information they need to make prudent investment decisions. Recent events and market volatility have accelerated the demand for issuer disclosure on how external impacts, such as climate change, can translate to investment risk as well as how issuers are mitigating these risks. Issuers are faced with reconciling how to account for and incorporate these risks in their financial disclosures. This dilemma is exacerbated by the unprecedented and dynamic nature of this topic, as it makes it difficult to discern what information is accurate, relevant, and "material" for the investor. Join us in this two-part series where we will discuss investor expectations for climate change disclosure and how issuers are contending with these expectations.
* The complete program, including replays and transcripts, is available in the CDIAC Education Portal. Registration required but program is free.
---
Municipal Debt Issuance Fundamentals Mini-Series
September 9, 2020 | September 16, 2020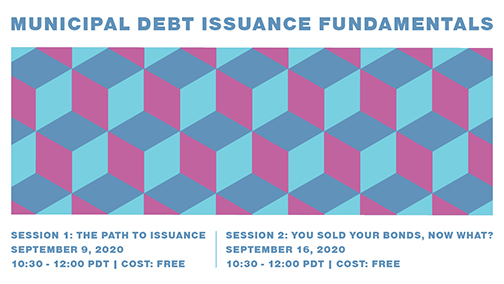 Municipalities have been using debt financing as a tool to build their communities for over a century and throughout this history bond issuance has grown and changed to facilitate the provision of a variety of public benefits. Issuers and investors of municipal debt must consider market conditions, the amount and purpose of the debt, an agency's credit, as well as many other variables. This variability coupled with so many people involved in the process, creates an environment where members of the issuance team understand their role, but may not understand the process as a whole. Join CDIAC in a two-part webinar series where we will step through an issuance process from a birds-eye view, highlighting the most important information needed for a fundamental understanding of a bond issuance process.
* The complete program, including replays and transcripts, is available in the CDIAC Education Portal. Registration required but program is free.
---
Steps for Filing Your Marks-Roos Yearly Fiscal Status Report
August 27, 2020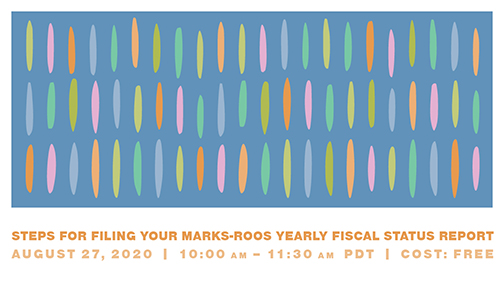 With the annual statutory deadline approaching on October 30th, the California Debt and Investment Advisory Commission (CDIAC) offers filers a step-by-step walkthrough of submitting the Marks-Roos Yearly Fiscal Status Report through its online platform. The webinar will provide tips and tools helpful to both new and experienced filers and also address frequently asked questions that CDIAC has received regarding this report.
---
California Local Public Finance Virtual Forum:
A Conversation with Treasurer Fiona Ma, CPA
August 12, 2020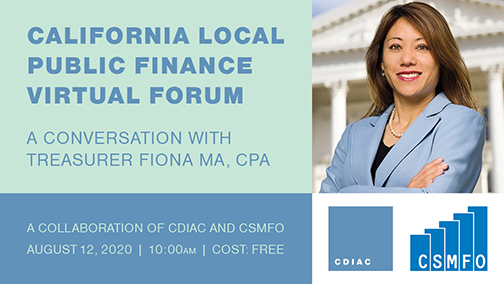 California State Treasurer Fiona Ma knows that collaboration and open discussion will be a key tool in the identification of public finance solutions that will address the unprecedented challenges California agencies are facing from the COVID-19 crisis. The Treasurer invites colleagues to join her for a conversation about the state of public finance in California and to share questions, challenges, successes, and ideas for restoration of our communities. In the midst of the physical separation we are all experiencing, we must consciously recognize that California's future will be stronger by joining together.
*Registration required to access this program, but it is free.
---
TRANs: Established Tool for Extraordinary Times
June 11, 2020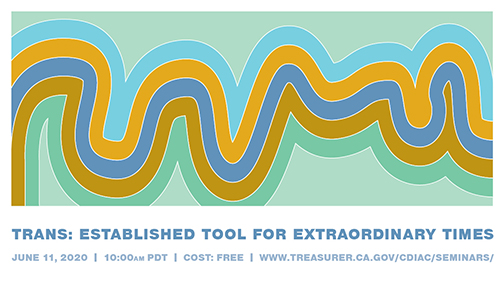 A tax and revenue anticipation note (TRAN) is a short-term financing tool that may be a critical component of a cash flow solution. Local agencies are experiencing severe revenue disruption and unplanned COVID-19 related expenses. State and local government policies intended to soften the pandemic-induced financial shock on businesses and individuals have delayed the collection of taxes and fees and have relaxed the pursuit of delinquencies. This combination has created extraordinary revenue and expenditures patterns and cash flow problems not seen since the Great Recession. Join us in this webinar to gain a fundamental understanding of what TRANs are, how the securities are used, and how an agency prepares to access the market – individually or as part of a pool. Speakers will discuss the factors an agency should consider when analyzing whether this tool fits in their comprehensive financial strategy. This program qualifies for 1.25 hours of MCLE credit and is considered certifiable by most governing bodies.
* The complete program, including replays and transcripts, is available in the CDIAC Education Portal. Registration required but program is free.
---
Navigating Investor Disclosures During the COVID-19 Crisis
May 1, 2020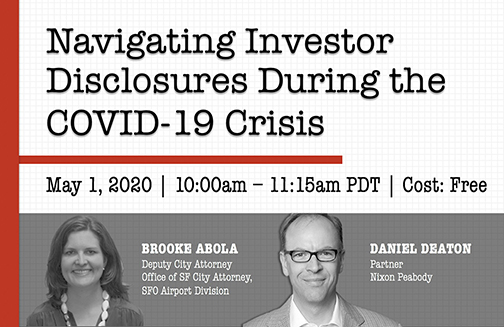 With a COVID-induced recession looming, investors are eager for information regarding the financial position of municipal issuers. At minimum, they expect issuers to uphold their continuing disclosure agreements and material event notifications, and to accurately describe their financial situation in initial offering documents. But, how does an issuer provide accurate information regarding its financial condition when circumstances are unprecedented and dynamic? Should issuers make voluntary disclosures to the market? Is there greater risk in disclosing nothing or disclosing what you know in the midst of economic uncertainty? Join us in a discussion of the disclosure challenges faced by issuers, where panelists will aim to provide strategies on how to navigate this very challenging dilemma.
* The complete program, including replays and transcripts, is available in the CDIAC Education Portal. Registration required but program is free.
---
Municipal Market Disclosure
March 3, 2020
Irvine, California
Both the Securities and Exchange Commission (SEC) and the Government Accountability Office noted in their evaluations of the municipal market the need to improve market transparency through better disclosure. Improving the practice of municipal securities market disclosure is an ongoing process, strengthened by annual staff training. This CDIAC seminar will focus on the SEC rules and regulations, in addition to California-specific CDIAC reports, for primary and secondary disclosure practices by public agencies. This program is open to all interested parties.
---
Advanced Public Funds Investing: The Analytics of Portfolio Selection and Decision-Making
In collaboration with CMTA
January 15-16, 2020
Claremont, California
This interactive one-and-a-half day seminar provides an advanced discussion of portfolio management, including the more complex concepts underlying sound public portfolio analysis and decision-making. The seminar will cover assessing and adjusting liquidity, understanding risk, advanced analytics, and advanced investment analysis concepts. It will also include an investment portfolio case-study simulation to allow seminar participants to place concepts into practice. Following the workshop, participants will be able to translate the concepts learned into management of their portfolios.