December 2019 Articles
Connect With Us




Subscribe to Newsletter
---
ABCs of the BCAs
California Alternative Energy and Advanced Transportation Financing Authority (CAEATFA)
California Pollution Control Financing Authority (CPCFA)
December 2019
Home Loans
This month Treasurer Ma celebrates the work of the Residential Energy Efficiency Loan (REEL) program – which has spurred private lenders to loan more than $10 million to homeowners and renters in almost 600 separate loans for energy efficiency projects.
Since its launch in July 2016 as a pilot program, REEL has helped California homeowners and renters in 36 counties make their homes more comfortable and energy efficient through financing that eliminates the upfront cost barriers to such improvements as high-efficiency HVACs, water heaters and new insulation. More than half of the loans went to borrowers in low-to-moderate income brackets as part of the program's goal of making energy efficiency savings available to all Californians.
"REEL is an example of how innovative programs can help reduce California's energy consumption and cut greenhouse gas emissions while also benefiting residents economically. It's a true win-win."
– CAEATFA Board Chair Treasurer Ma
David and Juliana Maziarz of Los Angeles wanted to make upgrades to their beloved but drafty historic home and were able to do them all at once through REEL and start saving energy right away. For $307 a month (total cost: $34,323.58), they installed attic insulation, low-flow showerheads and faucets; replaced windows; and sealed the whole building, including air ducts. They also installed garage roof gutters as the non-energy part of their retrofit.
REEL -- which falls under the California Alternative Energy and Advanced Transportation Financing Authority (CAEATFA), an authority chaired by Treasurer Ma --encourages energy efficiency improvements to California homes by facilitating lower interest rates and longer payback times on project financing. The program accomplishes this by contributing to a loan loss reserve fund that functions as an insurance pool for the lenders, enabling them to offer broader eligibility and better terms to borrowers.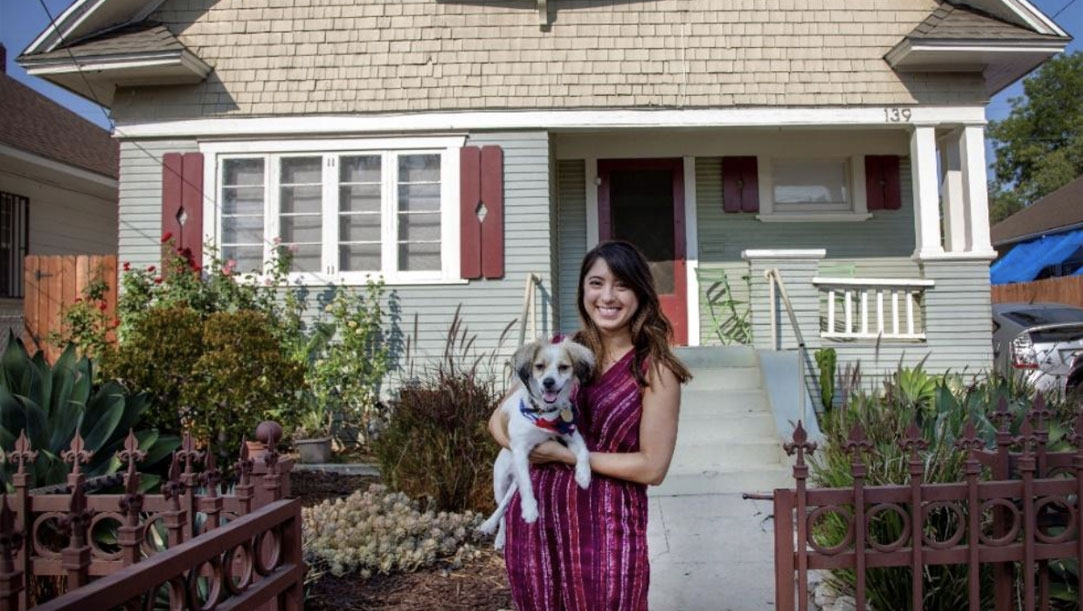 "We've been saving to make the upgrades the home has needed. The REEL program allowed us to make all of the upgrades in a single project."
– Juliana Maziarz
Interest rates for the REEL program currently range from 3.9-to-9.15 percent, with payback periods of up to 15 years Loans of $1,500 to $50,000 are available. Seven credit unions are enrolled as REEL lenders. Four of them offer financing to borrowers with FICO scores as low as 580. (Lenders use FICO scores, which range between 300 and 850, to assess credit risks. Scores above 650 generally indicate a very good credit history. Some lenders consider a score below 620 as subprime.)
Renters, as well as homeowners, can participate in REEL because unlike other green financing programs, REEL does not rely on property liens to securitize loans. REEL is also unique in that it allows 30 percent of the loan amount to finance non-energy improvements such as landscaping, garage gutters, and other home needs.
REEL is one of three pilot financing programs under the California Hub for Energy Efficiency Financing designed to test the viability of energy efficiency lending in the private capital market. The Hub is supported and funded by California's investor-owned utilities, authorized by the California Public Utilities Commission, and implemented by the California Alternative Energy and Advanced Transportation Financing Authority housed in the State Treasurer's Office.
For more information about REEL, visit GoGreenFinancing.com.
Truck Loans
A new milestone was set recently in the landmark program managed by the California Pollution Control Financing Authority (CPCFA) and the California Air Resources Board (CARB) with the financing of the 25,000th clean burning diesel truck.
Over the past decade the program has removed the equivalent of 4 million passenger cars from roadways and 145 tons per year of particulate matter.
"California's aggressive targets for newer and cleaner diesel, natural gas and zero emission vehicles are necessary to protect our communities and the environment."
– CPCFA Board Chair Treasurer Ma
The program provides private lenders with an incentive to offer owner-operators truck loans with more favorable terms and interest rates than they otherwise might get. In 2019, the Capital Access Program to date has enrolled 4,410 loans to California small business owners for the purchase of 4,257 trucks.
The program is on track for its largest year ever. That's because California truck owners must replace vehicles that use engines manufactured before 2010, a requirement under CARB's Truck and Bus Regulation. Beginning in 2020, the Department of Motor Vehicles cannot register any vehicle that does not meet the requirements of the Truck and Bus Regulation.
For more information on the California Capital Access Program, including small business financing opportunities, visit the program's webpage at: https://www.treasurer.ca.gov/cpcfa/calcap/. Interested in borrowing terms and conditions? Check out the online tools for truck loan borrowers to see if you qualify for the On-Road Heavy Duty Vehicle Air Quality Loan Program.
---
Note: Each month we will be sharing information on one of our BCAs and explain how the programs behind the acronym are enhancing the lives of Californians all across the state -- and how you, your family, or your business can share in, and contribute to, California's prosperity