December 2019 Articles
Connect With Us




Subscribe to Newsletter
---
Heart of the Treasury
December 2019
Meet the people in the State Treasurer's Office whose public service inspires us and is making a difference.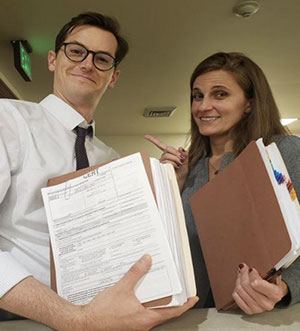 November STO Employee of the Month Eric Lawyer proudly displays some of his work to the appreciation of his boss, CalSavers Executive Director Katie Selenski.
Meet CalSavers Policy Director Eric Lawyer, November's Employee of the Month. Not only is he a consummate professional, Eric, who has worked for the state for six years, is a true leader in the CalSavers program. His varied experiences allow him to adjust to the fluctuating workflow of the office. He is able to go full speed ahead to lead conferences and hunker down and focus on massive writing and analysis projects, including the crafting of regulations necessary to establish a new program.
Eric consistently shows a willingness to go above and beyond to solve the unique issues facing the CalSavers program, earning the respect of his peers in the process.
In his spare time Eric enjoys the outdoors and photography. His office is filled with great pictures taken during his many adventures.
Congratulations Eric!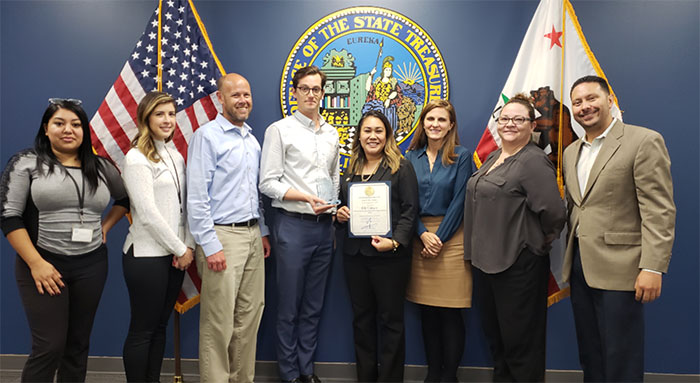 From left to right: CalSavers team members Alyssa Delacruz, Carolina Hernandez, Brian Gould, November Employee-of-the-Month Eric Lawyer, State Treasurer Fiona Ma's Chief of Staff, Genevieve Jopanda, CalSavers Executive Director Katie Selenski, Angela Duvane, Jonathan Herrera.